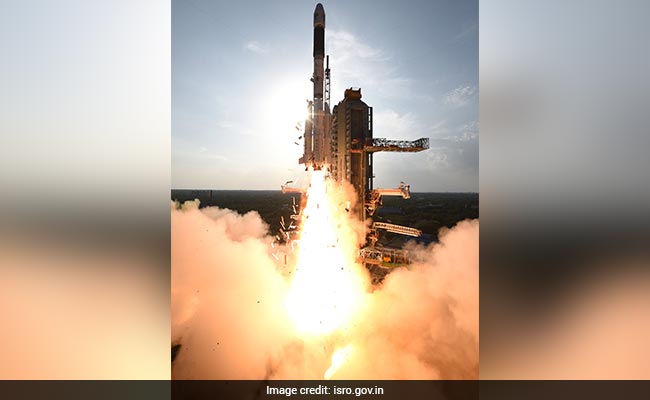 Highlights
ISRO was lauded for developing and launching the South Asia satellite
The satellite would improve communication, education and governance
PM Modi had invited SAARC leaders to his swearing-in ceremony in 2014
NEW DELHI:
Leaders of seven South Asian countries today came on the same platform via live video conference to witness, and celebrate the launch of the communication satellite from Sriharikota that promises to touch lives of millions of people in the region. "Sabka Saath Sabka Vikas (Together, development for all)," Maldives President Yameen Abdul Gayoom said, wrapping up his speech in a reference to what PM Modi has called is the fundamental tenet of his government. The PM broke into a laugh, clapped and later reiterated that this was "the guiding light" that would help the region "grow together". The seven are also members of the South Asian association, or SAARC set up three decades earlier, in the mid-eighties but has a rather unimpressive track record. SAARC's eight member, Pakistan, hasn't signed up for the satellite.
Here are the 10 developments on this story:
"This launch tells us that even the sky is not the limit when it comes to regional cooperation," said PM Modi, who has focussed on strengthening relations with India's neighbours before he even took charge in 2014; he had invited the leaders of SAARC countries to his swearing-in ceremony in May 2014.

"It shows out collective choices for our citizens will bring us together for: cooperation, not conflict; development, not destruction; and prosperity not poverty," PM Modi said calling it a historic day. The satellite, built by the Indian Space Research Organisation in three years, would touch the lives of millions of people in the region. It would improve communication, governance, banking and education in rural areas and make better weather forecasts.

Of the six other countries - Nepal, Bhutan, Bangladesh, Maldives, Sri Lanka and Afghanistan.- the two that would be the biggest beneficiaries would be Bhutan and Maldives, which either don't have their own space programme or have minimal capabilities. "We have started our journey to build the most advanced frontier in our partnership," PM Modi said.

Afghan President Ashraf Ghani stressed on citizen-centric development.. Through this cooperation, we have to work for the poor and the deprived: "If we can't cooperate on land, we surely can cooperate in space", remarked Afghanistan President Ashraf Ghani, who has just declined an invitation to travel to Islamabad.

"It is my sincere hope that we be able to put aside our differences and work together to fulfil our hopes and aspirations," said President Yameen of Maldives, the smallest of the seven countries.

Nepalese Prime Minister Pushpa Kamal Dahal said the satellite "will be helpful to provide communication services in the mountain and hilly regions" and enhance connectivity.

"This initiative will provide assistance to many priority areas of the region," said Sri Lanka President on the South Asia satellite, and help the island nation "map natural resources and monitor weather".

Tshering Tobgay, the Prime Minister of Bhutan, called the satellite a gift from India and "an example of true friendship and cooperation. It will bring common progress of our region".

Bangladesh Prime Minister Sheikh Hasina congratulated PM Modi for the launch, stressing on such fruitful engagements for the improvement in lives of people.

PM Modi also patted the ISRO team for leading from the front in developing the South Asia Satellite tailoring it to meet the regions' requirements and flawlessly launching it.