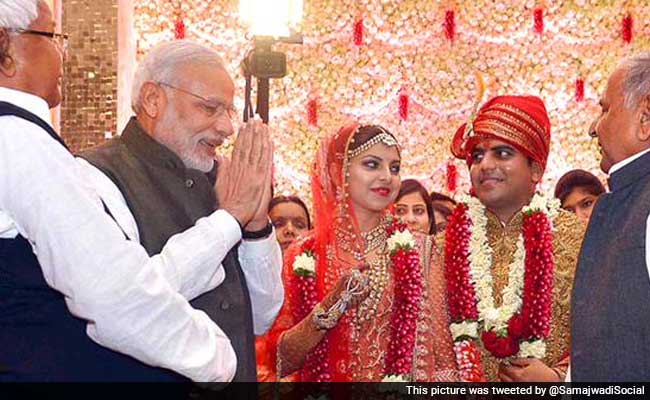 New Delhi:
Prime Minister Narendra Modi and Congress President Sonia Gandhi were among the array of guests at the wedding of Lalu Yadav's daughter and Mulayam Singh Yadav's grandnephew in Delhi on Thursday night.

Politicians across the spectrum came to celebrate the lavish wedding that marked the coming together of two key political families from Bihar and Uttar Pradesh.

Finance Minister Arun Jaitley, Home Minister Rajnath Singh, former Prime Minister Manmohan Singh, senior BJP leader LK Advani and President Pranab Mukherjee also came to wish the couple, parliamentarian Tej Pratap Yadav and Raj Laxmi.

Bihar Chief Minister Nitish Kumar attended the wedding too, and the Press Trust of India has quoted sources saying he had a brief chat with ally-turned-bitter rival PM Modi.

A pre-wedding tilak ceremony on February 21 had also seen an impressive gathering at Safai, the hometown of Mulayam Singh, who is the Samajwadi Party president.


PM Modi's arrival at that event and his bonhomie with Mulayam Singh and Lalu Yadav, two leaders on the opposite side of the spectrum, was widely speculated upon. Many saw it as the prime minister's political outreach ahead of the Budget session of Parliament, in which the government is facing a tough battle to push key legislation.
On Thursday, Mulayam Singh praised the Modi government's first Railway Budget, reviving talk of his unusually friendly vibes with PM Modi.
A staggering 1,00,000 people, including celebrities, were invited to yesterday's wedding.