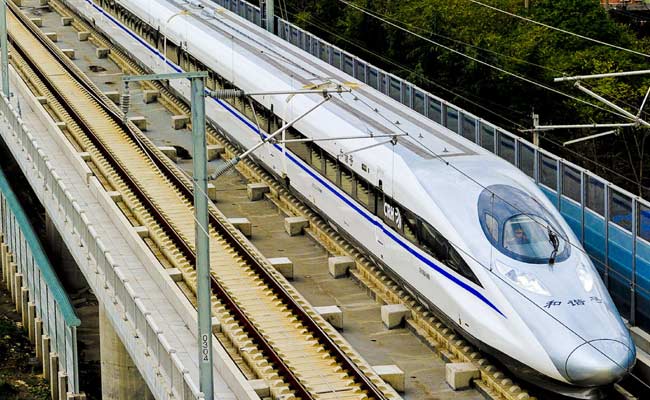 Ahmedabad:
As India plans to launch its first bullet train that will race between Mumbai and Ahmedabad by 2023, Japanese Prime Minister Shinzo Abe and Prime Minister Narendra Modi will lay the foundation stone for the ambitious project next month.
The groundbreaking ceremony (bhoomi-pujan) for Mumbai-Ahmedabad High Speed Rail Project, commonly referred to as the bullet train project, will be performed in Ahmedabad on September 14.
The bullet train, that could run at the speed of 350 kilometre per hour, will reduce the journey between Ahmedabad and Mumbai to two hours from seven; there are a total of 12 stations on the 508-km route - four of which are in Maharashtra and eight in Gujarat.
The ceremony, coming up at an estimated cost of Rs 98,000 crore, will be held at a ground near the Sabarmati railway station in the city, said a senior government official.
The entire funding or 81 percent of the project will be done by Japan. Mr Abe will be visiting Ahmedabad for three days along with PM Modi from September 13.
"Japanese PM Shinzo Abe and our PM would arrive in Gujarat on September 13 afternoon. The next morning, they would attend the groundbreaking ceremony of the high speed rail project at the Sabarmati railway station. Both of them are expected to leave on September 15 morning," the official said.
The two leaders are also expected to hold bilateral talks and sign various MoUs related to investments.
The bullet train will start underground from the Bandra-Kurla Complex in Mumbai and travel 27 km through a tunnel in the sea before emerging over ground at Thane. As per the detailed project report by the Japan International Cooperation Agency (JICA), the train on this route would mostly, 92 per cent, run on elevated tracks.
Last year, when PM Modi visited Japan in November, it was announced through a joint statement that the construction will begin by the end of 2018, while the groundbreaking ceremony will be held in 2017.