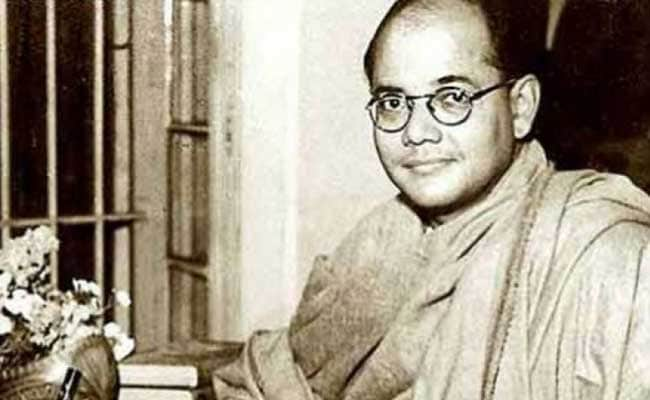 New Delhi:
The country today remembers one of India's most celebrated freedom fighters, Subhas Chandra Bose on his 121st birth anniversary. The nationalist leader was generally known as Netaji or leader after his contribution in establishing and leading the Indian National Army during the course of the Indian freedom struggle.
Subhas Chandra Bose was born in Orissa's Cuttack on January 23, 1897 and was a Philosophy student. He was initially an active member of the Congress in Culcutta, but later on founded the Swaraj Party in 1922. Netaji Subhas Chandra Bose's patriotism continues to have an impact in the country. His slogan 'Jai Hind' is relevant to us even today.
To commemorate the day, Prime Minister Narendra Modi, President Ram Nath Kovind and other prominent leaders of the country honor and remember Netaji's 121st birth anniversary.
Prime Minister Narendra Modi tweeted a minute long video dedication for Netaji along with a message.
The valour of Netaji Subhas Chandra Bose makes every Indian proud. We bow to this great personality on his Jayanti. pic.twitter.com/Qrao1dnmQZ

— Narendra Modi (@narendramodi) January 23, 2018
President Ram Nath Kovind paid his tributes to Subhas Chandra Bose.
On his birthday, I offer my tributes to Netaji Subhas Chandra Bose. He remains one of our most beloved national heroes and an icon of India's freedom struggle #PresidentKovind

— President of India (@rashtrapatibhvn) January 23, 2018
Congress' official twitter handle posted a tribute to the leader along with a quote by Netaji.
Lovingly called as #Netaji, India's patriot #SubhashChandraBose was a leader of the Indian National Congress and served as the Congress President in 1938 and 1939. pic.twitter.com/EVQb6dy8Nq

— Congress (@INCIndia) January 23, 2018
Vice President, Venkaiah Naidu tweeted his tribute calling Netaji Subhas Chandra Bose a national icon.
On his birth anniversary, I pay my tributes to Netaji Subhash Chandra Bose, a national icon and charismatic leader, who gave ' Jai Hind' slogan. pic.twitter.com/09ls3xi5Su

— VicePresidentOfIndia (@VPSecretariat) January 23, 2018
BJP Chief Amit Shah, Karnataka BJP President BS Yeddyurappa, Union Minister Harsh Vardhan were among other who paid honored Netaji with their tributes.
I bow to the legendary Netaji Subhash Chandra Bose on his birth anniversary. Netaji's patriotism, courage and bravery were exceptional. His charismatic leadership had inspired millions of youth to participate in India's Independence struggle. pic.twitter.com/891MUx3BH6

— Amit Shah (@AmitShah) January 23, 2018
I bow to the proud son of India, Netaji Subhas Chandra Bose on his birth anniversary. An epitome of courage & bravery, #Netaji's legacy has inspired generations of Young Indians over the years. pic.twitter.com/ISCW3EguR6

— B.S. Yeddyurappa (@BSYBJP) January 23, 2018
On the 120th birth anniversary of Netaji Subhas Chandra Bose, I pay my humble tributes to the great son of India Netaji's role in securing freedom is equally significant as anyone else. The present generation should imbibe his nationalistic spirit and uphold it the patriotic zeal pic.twitter.com/Tloal5Yv4x

— Dr. Harsh Vardhan (@drharshvardhan) January 23, 2018