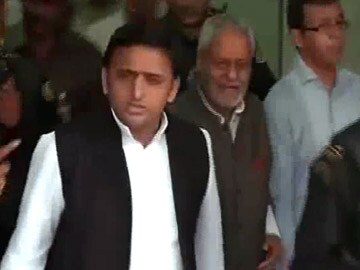 Lucknow:
Akhilesh Yadav, who is among the nine people tagged by Prime Minister Narendra Modi for his cleanliness drive today, refused to comment on the nomination.
The 41-year-old Uttar Pradesh Chief Minister walked away when reporters in Lucknow asked him about his reaction to Prime Minister's invitation.
This morning, in his parliamentary constituency Varanasi, Mr Modi began work, spade in hand, to clean the river at the Assi Ghat. As he did at the start of his Swachh Bharat or Clean India mission, PM Modi tagged Mr Yadav and eight other prominent people to take the task forward. (
PM Modi With Spade Cleans Assi Ghat in Varanasi
)
"When I began the drive, I had nominated nine people. Today, taking that forward, I am nominating Uttar Pradesh Chief Minister Akhilesh Yadav, Chancellor of Chitrakoot Handicapped University Swami Ram Bhadracharya, Bhojpuri actor Manoj Tiwari, writer Manu Sharma, cricketers Mohd Kaif and Suresh Raina, Padma Shri Professor Devi Prasad Dwivedi, television actor and comedian Raju Shrivastava and singer Kailash Kher," the PM said.
Other nominees, meanwhile, welcomed Mr Modi's invitation.
"Honoured to be nominated by PM for Swachhta Abhiyaan, will take up the endeavour as soon as I'm in UP after ODI series," tweeted cricketer Suresh Raina.
"So happy to have received the Prime Minister's invitation. I think so alike about cleanliness, this will strengthen my wish and willingness about this mission," said singer Kailash Kher. Raju Shrivastava too said he feels honoured by PM's invites. "I will first participate cleanliness drive in UP then take it across the country," he said.
The Prime Minister has vowed that his government will prioritise cleaning the Ganga, which is full of garbage and sewage and industrial effluent. He has set up a separate ministry headed by Uma Bharati for cleaning the river. On a trip to the US earlier this month, he sought the help of NRIs in doing this.
He launched the Clean India mission on October 2, Mahatma Gandhi's birthday.
Get Breaking news, live coverage, and Latest News from India and around the world on NDTV.com. Catch all the Live TV action on NDTV 24x7 and NDTV India. Like us on Facebook or follow us on Twitter and Instagram for latest news and live news updates.