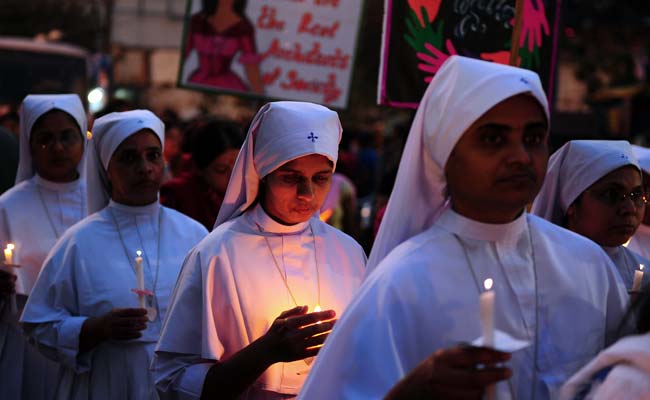 New Delhi:
Prime Minister Narendra Modi said on Tuesday that he was "deeply concerned" about the rape of an elderly nun in West Bengal and the demolition of a church under construction in Haryana, amid protests for the better protection of women and religious minorities across the country.

PM Modi has asked for an immediate report on the violence on the weekend, according to a statement.

There were angry scenes in Parliament as legislators demanded to know why the man accused of raping the 72-year-old nun had not been arrested. Over the last few months, PM Modi has been criticised for being slow to condemn a series of attacks on Christian institutions.


Outrage over the rape of the nun has reignited an angry debate about the safety of women.
"We all feel ashamed, never before could this have been imagined, we have never heard of such things," said Mohammed Salim, a CPM member of the Lok Sabha or lower house of parliament. "And despite that, after 70 hours no arrests have been made."
Members of parliament shouted: "We demand justice."
Hundreds of protesters clashed with police in West Bengal on Monday evening, blocking the convoy of Chief Minister Mamata Banerjee for almost an hour.
Ms Banerjee was prevented from travelling along a motorway after she visited the nun in hospital. The crowd surrounded her car with protesters demanding to know why the man suspected of raping the nun had not been caught.
When her government was attacked in the Lok Sabha by members of both the Opposition and treasury benches, Saugata Dey of her party attempted to deflect the blame accusing the central government led by the BJP of failing to curb religious intolerance.
Union minister Venkaiah Naidu pointed out that law and order in India is primarily the responsibility of state governments. "You cannot expect the Government of India to do something in Haryana or West Bengal. The moment Central government steps in, there will be criticism," he said.
"These are condemnable incidents. Let's have a civilized debate, don't try to score brownie points," Mr Naidu added.
The West Bengal police have detained nine men after Saturday's attack on the 72-year-old nun in a convent school, but no arrests have been made. A group of men broke into the school and stole some items. One of them then raped the nun.
Even after national soul searching caused by the gang rape and murder of a student on a moving bus in Delhi two years ago and tougher penalties for men who attack women, the country is struggling to tame chauvinistic attitudes that leave women vulnerable to rape.
In the past, Ms Banerjee and members of her Trinamool Congress have attracted criticism for comments on rape, that were deemed insensitive. Two years ago, Ms Banerjee accused a rape victim of making up the incident and one of her ministers questioned why she was out late drinking at a night club.