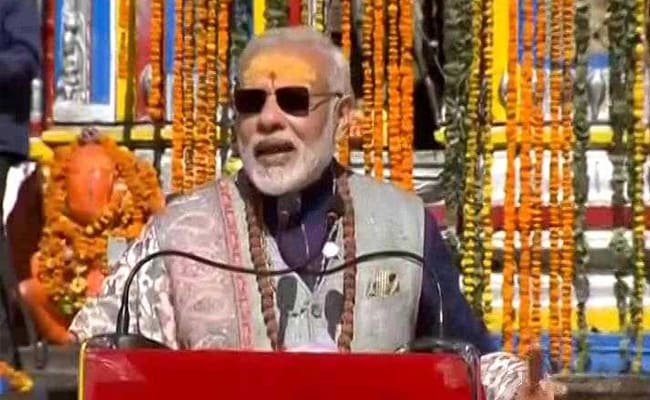 Shimla:
Prime Minister Narendra Modi and his cabinet colleagues are among an array of leaders who will try to turn voters in favour of the BJP ahead of the November 9 assembly elections in Himachal Pradesh, it was announced on Sunday.
However, the ruling Congress is yet to announce its leaders who would campaign in the hill state.
Besides PM Modi, Union Ministers Rajnath Singh, Arun Jaitley, Sushma Swaraj and J.P. Nadda will seek votes for the Bharatiya Janata Party in Himachal Pradesh.
BJP President Amit Shah's name is included in the list of 40 leaders who will campaign in the state.
"The Prime Minister is likely to address one rally each in four parliamentary constituencies. We are planning one of his rallies in and around Shimla," a senior BJP leader told IANS.
The reason to hold PM Modi's rally in Shimla is that Congress leader and Chief Minister Virbhadra Singh is contesting from Arki, which is just 40 km from here, and his son Vikramaditya Singh is also likely to be in the fray from the Rural Shimla seat, which lies on the outskirts of the state capital.
The BJP has also roped in its Chief Ministers -- Manohar Lal Khattar of Haryana, Yogi Adityanath of Uttar Pradesh and Shivraj Singh Chouhan of Madhya Pradesh, among others, to campaign in the state.
Ahead of the announcement of the assembly elections, PM Modi, Amit Shah, Arun Jaitley and Rajnath Singh had toured the state.
Likewise, Congress Vice President Rahul Gandhi held a public meeting in Mandi town on October 7 where he announced that Virbhadra Singh will "become the Chief Minister for the seventh time".
He officially declared him the "commander" who will lead the party to victory.
In contrast, the opposition BJP, which contends it is confident of clawing back to power in the state, is still a divided house.
"There is too much confusion over who will lead the party in the assembly elections," a senior state BJP leader, who did not wish to be identified, told IANS.
He said the party is divided into two camps -- one led by two-time Chief Minister Prem Kumar Dhumal and the other by Union Health Minister J.P. Nadda.
Mr Nadda, who has been devoting much time and energy to the state, played a key role in the 2014 elections, helping the party win all four parliamentary seats even though a Congress government was in office.
Elections to the 68-member Himachal Pradesh assembly will be held on November 9. The votes would be counted on December 18.