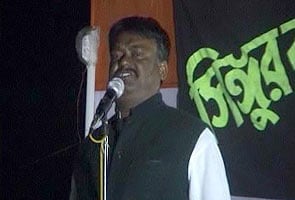 Kolkata:
A criminal contempt petition was filed today against West Bengal Agriculture Minister Becharam Manna over his remarks against a judge who passed the Singur land reclamation law verdict against the Mamata Banerjee government.
The petition was filed by advocate Md Shamim in the Calcutta High Court. The court has asked him to appear before it personally on December 18.
In an attempt to placate restive Singur villagers, Mr Manna had on Sunday said that "people would frame laws even if the court verdict went against the government".
"Mamata Banerjee is always worried about the people of Singur. She is always figuring out how to give farmers their land back. We believe we will find a solution to the Singur problem by January... When she took oath as chief minister, she decided to abide by the law. But when we don't have a law in our favour, the people of Singur will show how to create a new one," he said in Singur.
The West Bengal government had passed the Singur Land Rehabilitation and Development Act, 2011 but it was nullified by a division bench of the Calcutta High Court. The state appealed before the Supreme Court.
The top court issued a notice to Tata Motors seeking its response within four weeks on the state government's petition challenging the order. It said suspension of the verdict would continue till further orders.
(With inputs from agencies)