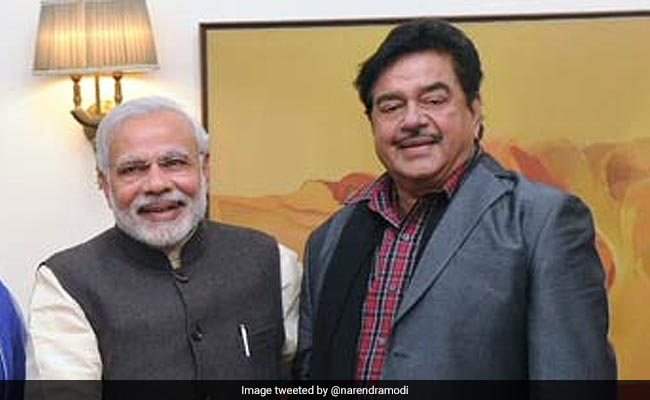 Highlights
BJP's 20 union ministers, other top leaders in Gujarat
BJP up against festering resentment among Patidar supporters
Shatrugan Sinha not among BJP's declared star campaigners
Patna:
Shatrugan Sinha, BJP leader, rarely
allows the dust to settle
between his frequent and public attacks on his own party. Today, he declared that the BJP's campaign in Gujarat, which is being fronted by Prime Minister Narendra Modi, is coming across as desperate. His appraisal is based on the sizeable pack of leaders that the BJP has dispatched across Gujarat - at least 20 union ministers and six Chief Ministers including Uttar Pradesh leader Yogi Adityanath.
On Twitter, Shatrugan Sinha posted, "By pumping in so many leaders at the same time in our own state Gujarat, like we did in Delhi, aren't we showing signs of panic & desperation in anticipation...generally speaking this kind of strategy doesnt work...we've seen it in Delhi & Bihar. Nonetheless our best wishes..!!"
Gujarat votes next month for its next government. Though opinion polls show the BJP comfortably ahead in a state it has held for over 20 years, the election will be used as a gauge of Prime Minister Modi's popularity ahead of the next general election and after the introduction of the new national sales tax or GST, which, till it was recently tweaked, plunged small traders into a cash crunch among other problems.
The BJP is also up against a
festering resentment
among its loyal Patidar supporters, who have been rallied by 24-year-old Hardik Patel around a demand for reserved government jobs and seats in colleges. After two decades of standing with the BJP, the Patels or Patidars, who form 14% of the population, are being urged by Hardik Patel to "vote smarter" this time and opt for the Congress.
With the contest being pinned as a prestige battle, the BJP has allotted vast campaigning duties to top ministers, resulting in the winter session of parliament being delayed from the conventional mid-November start date to December 15.
Shatrugan Sinha, who is an MP from Bihar, was unsurprisingly
not among the party's declared star campaigners
. He has used twitter to offer regular commentary along with unsolicited advice, like urging BJP campaigners not to deal in "personal attacks".
Even in the worst of scenarios & with lukewarm, moderate, cold or good crowd we must maintain dignity & not resort to any personal attacks & allegations against individuals & opponents. After all we are a party with a difference! Appeal with logic & facts. Best wishes & Jai Hind!

- Shatrughan Sinha (@ShatruganSinha) November 28, 2017
The PM this morning said former Congress leader and Prime Minister Indira Gandhi was photographed holding a hanky to her nose as protection against the foul smell in Morbi in Saurashtra, which is where Mr Modi is campaigning today. "We on the other hand have stood by Morbi in good times and bad," he said.
Mr Modi has accused the Gandhis of an inherent dislike of Gujarat and its people, a claim he extended today.