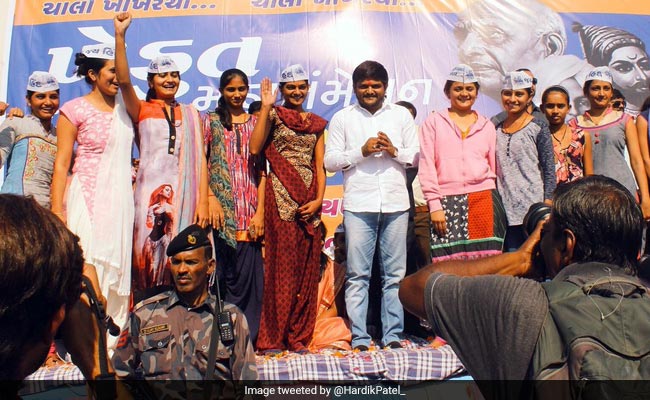 Morbi, Gujarat: Both Prime Minister Narendra Modi and Congress Vice President Rahul Gandhi are campaigning today in Gujarat's vast Saurashtra region, pockets of which are dominated by the Patel community whose backing both their parties hope to get in next month's assembly elections. PM Modi launched first of his four rallies today in Morbi, which has a high concentration of Patel or Patidars and was an epicentre of the community's agitation for reservation in government jobs and colleges two years ago. Minutes after the Prime Minister's rally, Hardik Patel, the 24-year-old face of the Patel agitation also held a rally in Morbi, just 30 kms away from the PM's rally venue. Mr Patel, who has been drawing massive crowds in the region, has pledged support to the Congress in his stated mission of ensuring a loss for the BJP, in power in Gujarat for the last 22 years.
Here is your 10-point cheatsheet to the story:
"In good times and bad, we have stood with Morbi...the same cannot be said of the Congress," PM Modi said in Morbi, which votes in the first phase of state Assembly elections on December 9. Morbi, PM Modi said, is typical of the famous Gujarat model that he is credited with developing during his 13 years as Chief Minister.
Continuing his claim that the opposition Congress is anti-Gujarat, the PM said, "When Indira-ben (Indira Gandhi)came to Morbi, she held a handkerchief to her nose against a foul smell."
The crowds that the Prime Minister and Hardik Patel draw in Morbi, famous as a centre for tile manufacturers, are expected to be compared, especially after reports of sub-par attendance at two of PM Modi's rallies in Saurashtra on Monday.
Centrally-located Morbi, held by the BJP for the last two decades, can influence voting in areas around and the ruling party is reportedly worried not just about Patels being upset over quota but also over local complaints on basic amenities like water and roads.
Also, traders in the area have traditionally funded the party, but are now being encouraged by the Congress to punish the BJP for a chaotic roll-out of new national tax GST, which Rahul Gandhi alleges has brought small businesses to their knees.
Rahul Gandhi - who will address three rallies today in Saurashtra, including one in Amreli where the PM campaigned on Monday - has focused his attack on the BJP around PM Modi's economic policies like the notes ban and GST, which the Congress leader blames for economic growth slowing to a three-year-low in the June quarter.
The government, which says that its mega policies hold long term benefits and that the slowdown was only a temporary setback, is expected to get a shot in the arm when data for the next quarter is released tomorrow, with economists predicting this year's best growth figures.
As PM Modi began his Gujarat campaign blitz on Monday - he is scheduled to address 30 public meetings by December 9 when the state begins to vote - he pitched the election as a battle between vikas (development) vs vanshwaad (dynasty), and said he was requesting the Congress not to "mock my poor origins as a tea seller."
He has been accused by the BJP of trying to win Gujarat's Hindu votes by frequently visiting temples during his campaign, which the party alleges the 47-year-old Congress leader is unaccustomed to doing.
This morning Mr Gandhi tweeted what appeared to be the first in a series of questions for PM Modi: "The public wants the BJP to account for the last 22 years. You promised in 2012 that 50 lakh new houses would be built in Gujarat. 4.72 lakh houses were built in the last five years. Will it take the BJP 45 years to fulfil its promise?" Mr Modi was Gujarat's chief minister in 2012.
Get the latest election news, live updates and election schedule for Lok Sabha Elections 2019 on ndtv.com/elections. Like us on Facebook or follow us on Twitter and Instagram for updates from each of the 543 parliamentary seats for the 2019 Indian general elections.