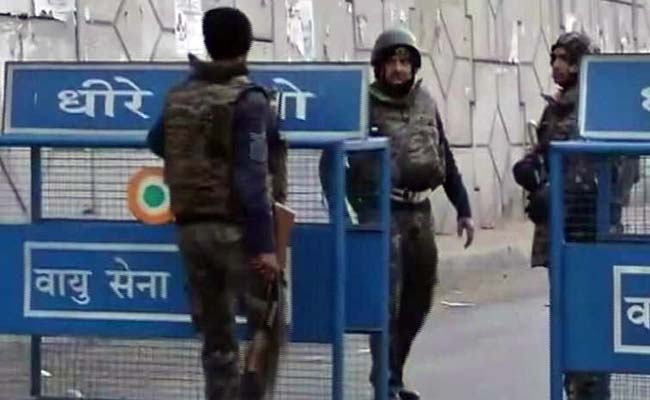 Highlights
Pakistan team probing Pathankot attack may visit India soon: Sartaj Aziz
Sad that Foreign Secretary talks were cancelled post the attack: Aziz
Pakistan filed FIR against Pathankot 'mastermind' Masood Azhar last week
Washington:
A Pakistani team probing the Pathankot terror attack may visit India in the next few days, Prime Minister Nawaz Sharif's Foreign Affairs Advisor Sartaj Aziz has said, and hoped that the Foreign Secretary-level talks will be scheduled very soon.
"It is unfortunate that the agreement on resuming the dialogue process was disrupted by the attack on Pathankot Airbase on January 2. Pakistan has taken some important steps in the aftermath of the Pathankot incident," Mr Aziz said yesterday in his opening remarks to the US-Pak Strategic Dialogue.
"Prime Minister Nawaz Sharif called the Indian Prime Minister (Narendra Modi) immediately after the attack and assured of Pakistan's support in the investigation. National Security Advisers are maintaining frequent contacts," he said.
"Case has been registered and the Special Investigation Team (SIT) is likely to visit India in the next few days. We therefore hope that the Foreign Secretary level-talks will be scheduled very soon," Mr Aziz said during the US-Pakistan Strategic Dialogue which he co-chaired with US Secretary of State John Kerry.
As an important part of Sharif Government's policy of peaceful neighbourhood, Islamabad has reached out to India, he noted.
"We believe that the resolution of all outstanding issues - including the Kashmir dispute - is possible through resumption of full-scale and uninterrupted dialogue with India. We had also proposed a mechanism to address our respective concerns on terrorism," Mr Aziz said.
Pakistan last week set up a five-member Joint Investigation Team (JIT) to probe the terror attack on the Pathankot airbase, a week after it lodged a First Information Report (FIR) over the assault without naming Jaish-e-Mohammed (JeM) chief Masood Azhar who India has accused of having masterminded the strike.
Earlier, a six-member Special Investigation Team (SIT) was set up by the Pakistan government for the initial probe into the January 2 attack based on the leads given by India.
Three suspects arrested in the high-profile case were remanded in police custody by an anti-terrorism court in Gujranwala city of Punjab on Saturday.
The FIR by the Counter-Terrorism Department of Punjab police has been lodged on the basis of information provided by National Security Adviser Ajit Doval that four attackers crossed from Pakistan into India and attacked the airbase.
The attack led to the postponement of a scheduled meeting between Foreign Secretaries of Pakistan and India in January in Islamabad. Since then, no date has been fixed for the talks.
(This story has not been edited by NDTV staff and is auto-generated from a syndicated feed.)