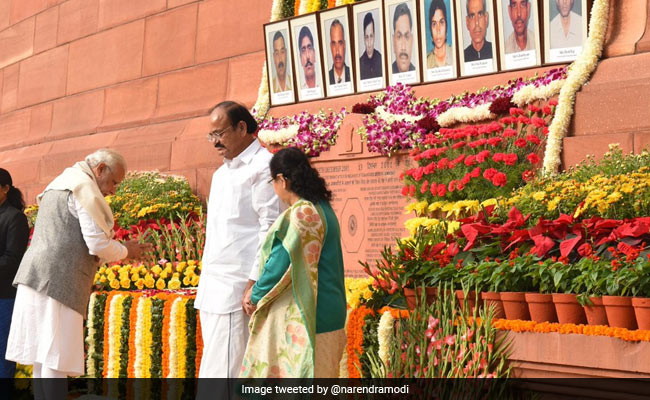 New Delhi:
Parliament attack
took place 16 years ago on December 13, 2001, and is considered to be one of the most sensational
terror incidents
in India. Five heavily armed gunmen stormed the
Parliament
in New Delhi and opened indiscriminate fire, killing nine people instantly. The victims included five Delhi Police personnel, a woman Central Reserve Police Force (CRPF) trooper, two Parliament watch and ward staff and a gardener. A journalist who was injured died later. All five terrorists were also shot dead.
The government initially accused Lashkar-e-Taiba and Jaish-e-Mohammed of involvement in the attack. However, Lashkar-e-Taiba denied any involvement in the incident. At the time of the attack, more than 100 people, including politicians were inside the Parliament building. The gunmen breached the security around the parliamentary complex by using a fake identity sticker on the car they drove. The terrorists carried AK47 rifles, grenade launchers, pistols and grenades with them.
Two days after the attack, the Delhi police picked up Afzal Guru from Jammu and Kashmir for conspiring and sheltering the militants. He was later found guilty along with three others - SAR Geelani, Shaukat Hussain Guru and Afsan Guru. While Afsan Guru was let off, the other three were awarded death sentence by the trial court.
In 2003, Jaish-e-Mohammad leader Ghazi Baba, prime accused in the attack, was killed in an encounter with the Border Security Force (BSF) in Srinagar.
The Delhi High Court upheld Afzal Guru and Shaukat Hussain's death sentence, but SAR Geelani was acquitted on October 29, 2003.
In 2005, Afzal Guru's death sentence was upheld by the Supreme Court but Shaukat Hussain Guru's death sentence was commuted to 10 years of rigorous punishment.
A mercy petition of Afzal Guru was rejected by President Pranab Mukherjee on February 3, 2013 and Afzal Guru was hanged in Tihar jail on February 9, 2013.
Every year on Parliament attack anniversary, tributes are paid to remember the brave martyrs who lost their lives and dispelled the terror attack on the Parliament.