Varanasi:
At 1 pm in Varanasi, there is no escape from the sun. Or the politics that the city is awash in today as it contemplates what sort of pulling power Congress chief Sonia Gandhi will demonstrate on the turf that Prime Minister Narendra Modi so decisively established as his own in the general election.
"The crowds will come. They will build up, you wait," says Mohammed Isa, who runs a fishing business. Mr Isa says he voted for the Congress in 2014 and is likely to repeat his decision in the state election. "It is true the Congress will not win," he says, "but who else will I vote for? As Muslims, my family has always voted for the Congress.
He is seated at a small stall that sells cold drinks and eggs opposite the Dr Ambedkar statue that the Congress chief will garland. Her road show will end with a visit to the statue of Kamalapati Tripathi to signal that the Congress should be the choice of a range of castes, from Brahmins to Dalits.
"Since Prime Minister Modi was elected, it is true that roads have improved here," Mr Isa says. The improvement in Varanasi, from better roads to cleanliness, is acknowledged freely as the result of the PM making this his political home.
At the statue of Dalit icon Dr Ambedkar, Congress workers, their head scarves limp with sweat, climb up a ladder to clean the structure. So far, at this major intersection, the crowds are thin. A few Congress workers carry the placards of the local lawmaker who has rustled them together. One comes up. "I am seeking a ticket. If you can speak to anyone, please let me know," he says, without inquiring who his query is being addressed to.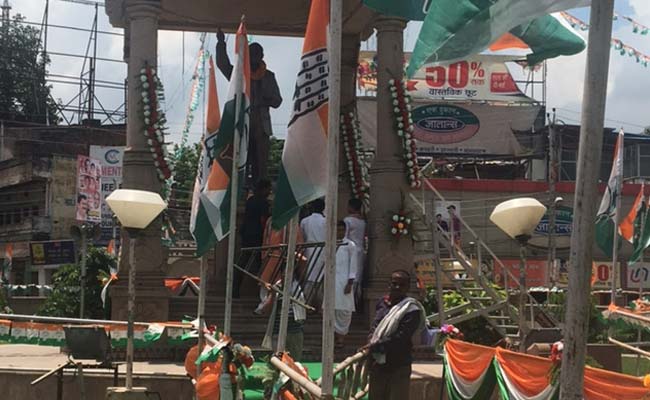 It is a testament to how today politics is the only thing on the city's mind. Anil Dikshit, a taxi driver, says the BJP, who he supported in 2014, will make big gains. "In my village, it took me just a month to get a bank account opened," he said of the PM's Jan Dhan scheme to ensure all families have a bank account.
At the cold drinks stall, a group of Congress workers take refuge from the sun. "You can pay later, first have some cold water," says the young owner, Wasim Akram, to them. "It is not a usual day," he offers as explanation for his freewheeling business practice today.
One of the young Congress supporters gets up to be interviewed on camera. "Pappu fail
nahin hua,
Pappu pass
hoga
," he insists loudly, referring to the mocking nickname given by PM Modi during his 2014 campaign to Mrs Gandhi's son, Rahul.
That is the sort of bluster that is running through the streets today in a state where the Congress placed last in the general election.