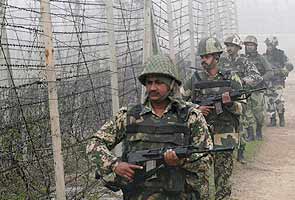 Jammu:
Pakistani soldiers violated the ceasefire for the sixth time in 48 hours this morning, targeting a post along the International Border in the RS Pura sector of Jammu and Kashmir.
The unprovoked firing prompted retaliation from the Border Security Force troops at the post. According to reports, intermittent exchange of fire is still on between the two sides.
News agency Press Trust of India quotes a BSF officer as saying that at 0930 hours today, there was suspected movement of some persons along the International Border close to Kharkola border outpost in the RS Pura border belt of Jammu district.
As troops guarding the borderline took positions and challenged them near Kharkola, the BSF said, Pakistani troops opened fire on the forward area.
Over the past two months, there have been over 150 incidents of unprovoked firing by Pakistan, making this one of the most violent phases since the 2003 ceasefire agreement between the two countries.
On October 15, a soldier was killed as Pakistani troops shelled an Indian post in Hamirpur area of Mendhar sector. He was hit by a mortar splinter.
The spurt in violence along the border followed the rise in hostilities over the killing of five Indian soldiers in a Pakistani ambush in August.