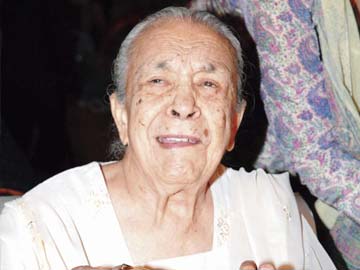 New Delhi:
Veteran actress Zohra Sehgal is an unhappy woman. The 101-year-old actress, who currently stays with her daughter Kiran Sehgal in South Delhi's Mandakini Enclave, had written to the state government in 2011 seeking a house - preferably on the ground floor - in the capital. More than three years later, she is yet to call a house her own.
Kiran tells HitList, "We applied to the then chief minister Sheila Dixit asking her to allot a house to my mother as per the provisions under the artiste quota. We were told our application was forwarded to the Urban Development Ministry. We even met the minister but nothing was done."
Kiran adds that her mother - who turns 102 in April - finds its difficult to move around without help. "I cannot take her down to the lawn and she needs to be wheeled around," she says.
She also points out that Zohra, who was awarded the Padma Vibhushan in 2010, wrote a similar letter to the Sangeet Natak Akademi in September 2013. "As per the regulations of the Ministry of Culture, I filled up forms and even submitted an audit report on my mother's earnings. She has not worked in a film after 'Saawariya' (2007). But so far, there has been no progress on this front."
Does this mean that their demand has been turned down? "Some mediapersons told us that the proposal has not been honoured. When my mother heard this, she narrated a dialogue from her play. She said, 'Maya ko maya mile kar kar ke lambe haath, Tulsidas gareeb ki koi na maane baat (the rich only help the rich, there is nobody for the poor)," says Kiran.
Zohra's daughter, however, doesn't want to give up hope. She wants to approach the current Delhi CM, Arvind Kejriwal. "We will reach out to Kejriwal and plead our case before him," she says.