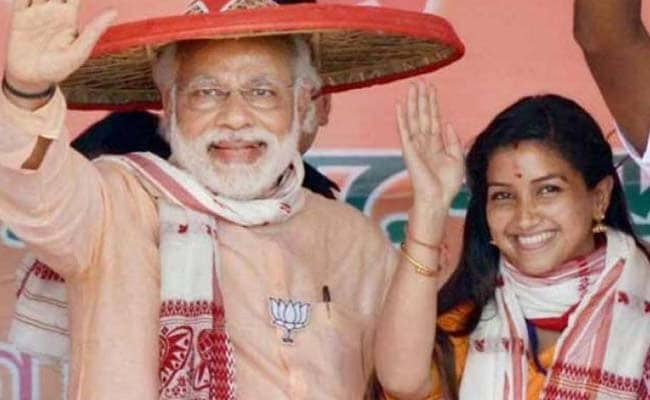 Highlights
Ram Gopal Verma posted a photo of Angurlata Deka with caption 'acche din'
Deka, an Assamese actor, won from Batadroba against a former minister
She joined BJP last year, one of the 6 women candidates fielded by party
New Delhi:
One of the BJP's newly-elected lawmakers in Assam, Angurlata Deka, has been besieged on social media with sexist comments.
In the past few days, photos from her acting and modelling days have been shared online along with captions that range from vulgar to plain vicious. The attacks have provoked anger at a time online trolling by rival political activists has become a huge debate.
Many have come out in her support on twitter and condemned what they call the worst kind of objectification. They are rattled by the latest offender, filmmaker Ram Gopal Varma, who tweeted pictures of the lawmaker.
If MLA can look like this,Achche din aagaye hai..Thank you Angoorlataji,Thank you Modiji..1st time I love politics pic.twitter.com/WPzJgmnb13

— Ram Gopal Varma (@RGVzoomin) May 24, 2016
Within seconds, the filmmaker was barraged by tweets with #SaySorryRGV.
"When u cant respect women then how can v respect u. #SaySorryRGV" tweeted Anirudh Jain.
"Mr RGV learn to give respect to women," wrote Prasenjit C Sarkar.
The comments multiplied after Mr Varma's so-called clarification, which was anything but.
With regards to my comment on Angoorlataji,I was just paying a compliment to her .since most MLA's don't look good it was such a change

— Ram Gopal Varma (@RGVzoomin) May 25, 2016
Ms Deka, a popular Assamese actor, won from the Batadroba constituency against a Congress veteran, Gautam Bora, in the polls this month. She has worked in several Bengali and Assamese films and once portrayed Benazir Bhutto in Assamese Mobile Theatre.
The young actor joined the BJP last year. She was one of the six women fielded by the party in Assam and one of the two who won.