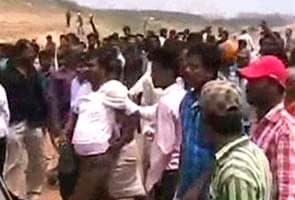 Bhubaneswar:
Footage of a man protesting at the Posco steel plant being beaten by a government land officer in Odisha has triggered outrage with activists and politicians demanding strong action against the culprits.
Sangram Mohapatra, a land officer with the state-run Orissa Industrial Infrastructure Development Corporation (IDCO), was reportedly seen beating a protestor mercilessly with a stick on Sunday near Jagatsinghpur district's Gobindpur village, about 100 km from Bhubaneswar.
The incident allegedly occurred in the presence of local administrative officials and policemen when hundreds of men, women and children were peacefully protesting against the South Korean company's Rs. 52,000-crore steel project. Footage of the incident was broadcast on a local television channel.
The footage also showed the officer dressed casually in a red sweater over a white shirt moving from one place to another and dragging some children across the protest site.
District Superintendent of Police Satyabrata Bhoi said an investigation has been ordered into the incident. "Appropriate action would be taken in the matter," Mr Bhoi told IANS.
"He has no police or magistrate power. In what capacity did he attack the man and children who were protesting peacefully," asked Prashant Paikray, spokesperson of the Posco Pratirodh Sangram Samiti (PPSS), which has been spearheading the movement against the project.
"He acted as an agent of the company. People will answer to this act in due course of time," Mr Paikray told IANS, adding that PPSS would move the state's human rights commission against the officer.
Jual Oram, state unit president of the Bharatiya Janata Party (BJP), also condemned the incident and demanded action against the officer and policemen who allegedly attacked the people during the protest.
"India is a democratic country where everybody has the right to protest. If the government goes on quelling such peaceful demonstrations, it will have to face the consequences," he said.
"Even police do not have the power to attack such protestors. It there is an unlawful assembly, police can take steps to disperse the mob. The gathering at the site where the incident occurred was not unlawful," human rights activist Biswapriya Kanungo said. "It was a (case of) state repression on the citizen," he pointed out.
Sunday's incident was also condemned by ruling Biju Janata Dal (BJD) member and Health Minister Damodar Rout, who represents the region in the state assembly and said officers like Mr Mohapatra were responsible for creating disturbance in the area. "This act is condemnable."
Posco's proposed 12 million tonnes per annum steel plant - the largest foreign investment in India - is to come up on about 4,000 acres of land near the port town of Paradip. IDCO is acquiring land for the project.
The local administration claimed it earlier acquired about 2,000 acres of land in the region in 2011. It needs to acquire another 700 acres - mostly in Gobindpur area - for the start of the project. However, some villagers have been opposing the acquisition.