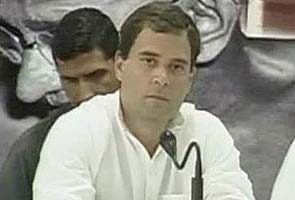 New Delhi:
Opposition parties Thursday slammed Rahul Gandhi for stating that every single terror attack could not be stopped, and said it would demoralise Indians and showed a careless attitude on the part of the Congress general secretary.
Bharatiya Janata Party (BJP) leaders said it would "embolden" terrorists.
"The BJP would like to state categorically such statements will embolden all indulging in terror. I think this is a statement that will demoralize the people of the country and we cannot expect anything," party leader Rajiv Pratap Rudy said adding that they expected the government to admit its lapse.
Communist Party of India leader D. Raja told IANS: "It shows a very casual and careless attitude to say something like this."
With three blasts rocking Mumbai Wednesday evening -- at Dadar, Zaveri Bazar and Opera house, killing at least 17 people and injuring 131, Rahul Gandhi said in Bhubaneswar Thursday that 99 per cent of terror attacks in the country had been halted thanks to improved intelligence and other measures.
But he also said: "It is very difficult to stop any single terrorist attack."
Reacting to this, Raja said: "Chidambaram said it was a coordinated attack, why were we not able to stop it? Chidambaram has failed as a Home Minister and Rahul Gandhi was trying to protect him."
"It is a failure of intelligence, we should try to understand what was the loophole. Since the 26/11 attack, Mumbai is on high alert, yet this incident occurred. Saying all terrorist incidents cannot be stopped is careless," he said.
Senior BJP Leader L.K. Advani said even though he would not comment on Rahul Gandhi's remark, the repeated occurrence of terror attacks showed government lapses.
"I will not comment on the statement. America is a democratic country like us, but I have not heard of anything after 9/11," Advani said.
Congress defends Rahul Gandhi's remarks
The Congress defended remarks of party leader Rahul Gandhi that 99 per cent of terror attacks in the country had been stopped and said that the need of the hour was to arrest those responsible for Mumbai blasts that killed 17 people a day earlier.
(Read: 99% terror attacks stopped, says Rahul Gandhi)
"The incident (in Mumbai) is very unfortunate. While the security forces have to be correct everytime, the terrorist has to succeed once in his designs. Rahul Gandhi said this evident truth," Congress spokesperson Abhishek Manu Singhvi said here.
He said the need of the hour was to tighten up our belts, work for providing relief to affected families and arrest those responsible for the incident.
"Hence, irresponsible statements should not be made and I hope opposition will understand," he said.
Earlier in the day, Gandhi said in Bhubaneswar that the government had been prompt in its response to the blasts in Mumbai and emphasised that 99 per cent of terror attacks in the country had been halted due to improved intelligence and other measures.
"I don't say it is impossible...it is very difficult to stop any single terrorist attack," he said, adding that 99 per cent of attacks had been stopped. "We must stop 100 per cent attacks," he said.
Singhvi rejected suggestions that Maharashtra Home Minister R.R. Patil had failed in his role.
"It happened suddenly. There was no prior intelligence...It is time to work collectively," Singhvi said.
Get Breaking news, live coverage, and Latest News from India and around the world on NDTV.com. Catch all the Live TV action on NDTV 24x7 and NDTV India. Like us on Facebook or follow us on Twitter and Instagram for latest news and live news updates.