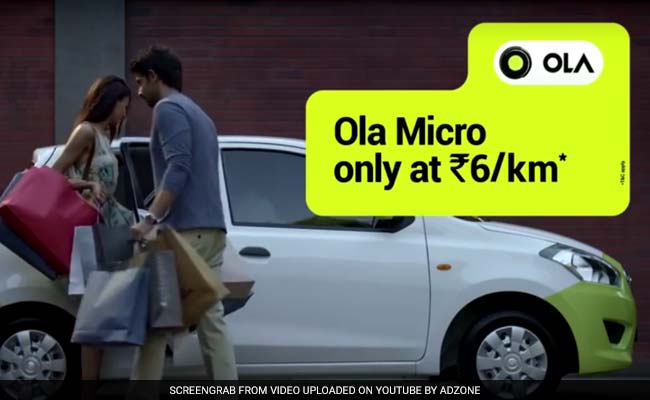 Highlights
Ad features couple out shopping, man paying for items woman selects
Man turns to camera and says 'my girlfriend costs Rs. 525 per km'
Ola apologises in a tweet and takes down the ad
New Delhi:
Taxi aggregator Ola has pulled down an ad from its official YouTube channel after an outrage over it on social media.
The ad titled "Micro Stories: Too expensive to take GF out on a date?" was released earlier this week.
The ad features a man walking through a market with his girlfriend, being forced to stop at every shop, as the woman selects things for him to buy for her.
It ends with the boy turning to the camera and saying "
Meri girlfriend chalti hai Rs 525 per km, but Ola Micro chalti hai sirf Rs 6 per km
," (It costs me Rs 525 per km when my girlfriend walks but Ola Micro runs at just Rs 6 per km).
While most Twitter users slammed Ola for what they called "sexist portrayal of women", some of them said the ad shouldn't have been pulled down. Below are some of the tweets:
hey @Olacabs , brief your ad agency about how blatantly sexist ads never worked. For anyone.

— Urvashi (@ushimitra) April 22, 2016
2016 and @Olacabs still makes ads where women depend on men to buy things. Not to miss subtle objectification by comparing them with cars :)

— Rach (@ZosoCFC) April 21, 2016
Unfunny and quite a sexist ad by @Olacabs. Honestly, I do not even get the point of this ad. Whats the message? https://t.co/PKfYK9c0bQ

— Pratyasha Rath (@pratyasharath) April 22, 2016
congrats @Olacabs! You have just set a new milestone in sexism and misogyny with your new ad. @FeminismInIndia

— Prachi Gupta (@prachigupta18) April 22, 2016
Dear @Olacabs, u shouldn't have pulled down the Ad. Some feminazis will keep finding faults in everything, ignore their rants.

— Devika (@Dayweekaa) April 23, 2016
Not booking a cab under a service which projects such a discriminatory, vile, sexist, retrogressive outlook in an ad. @olacabs Shame!

— Samadrita (@AuraofDreams) April 22, 2016
Whatever happens @Olacabs that ad is a good one!

— Dead Mau5hi (@AdvancedMaushi) April 23, 2016
After the outrage, Ola tweeted, "We understand one of our TVCs has ended up hurting some sentiments. We've pulled it down. However, #OlaMicro continues to run at Rs.6/km."
We understand one of our TVCs has ended up hurting some sentiments. We've pulled it down. However, #OlaMicro continues to run at Rs.6/km.

— Ola (@Olacabs) April 23, 2016