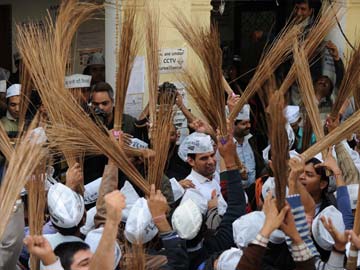 Chennai:
As it awaits a second round of people's votes, this time on SMS, to decide whether it should form government in Delhi,
Arvind Kejriwal
's Aam Aadmi Party or AAP is also exploring new ground.
Senior AAP leader Yogendra Yadav said in Chennai today that his party is not a regional party and that it will have its national strategy in place soon. He said he was on a reconnaissance to assess the party's chances in the southern states of Tamil Nadu and Karnataka.
"We have units in 16 states and 309 districts. We are looking forward to take the Aam Aadmi Party to the rest of the country," Mr Yadav said.
The one-year-old party made a dazzling debut in the recently held Delhi elections, winning 28 of the 70 seats in the Delhi House and decimating the Congress which ruled the capital for 15 years.
Soon after the Delhi election results were declared, Mr Kejriwal had announced that his party would now prep to contest the general elections due by May. He did not say in how many states or seats AAP would contest Lok Sabha elections, but asked people to donate generously to fund its poll battle.
As the second largest party in a hung house after the BJP, which refused to stake claim, AAP has been invited by Delhi's Lieutenant Governor to form government.
Arvind Kejriwal on Tuesday asked people to SMS their views on whether the party should form government in Delhi or not by Sunday.
Mr Yadav said the Delhi results had "energised the country and given it hope that the
aam aadmi
(common man) can win."