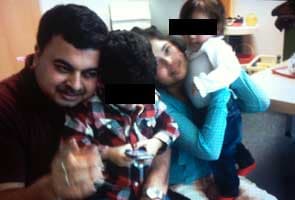 New Delhi:
In a bizarre turn of events in the custody case of Indian children in Norway, Indian government sources said the father of the children had told the authorities in Norway that he wanted his children to stay on in the country. The father, Anurup Bhattacharya, however has denied the reports.
Sources said that the Indian ambassador will speak to parents and ask them what they want. If the parents make it clear this is a family dispute, the Foreign Ministry will back off.
Sources also said that the decision on government intervention will be taken after talking to parents.
Mr Bhattacharya, who along with his wife Sagarika, has been fighting for the custody of his two children, reportedly informed Norwegian authorities that he had been physically abused by his wife. Source reported that he further said that he feared that she might be handed over the custody of their two children if they return to India.
The Bhattacharyas' children, one-year-old Aishwarya and three-year-old Abhigyan, have been under foster care since May last year. This was done after officials of the Child Welfare Services in Norway decided that the parents were negligent.
On Tuesday, Mr Bhattacharya, sources claim, suddenly said that wanted the children to remain under the custody of the Norwegian government. He reportedly cited Indian laws - which favour the mother being granted the custody of children who are below the age of five years - as the reason for his reluctance over the toddlers being sent back to their native country. He also informed the Norwegian authorities that he will be filing for divorce.
But Anurup later said he was still considering filing a divorce, though he admitted he was living separately from his wife. He also said that a crucial hearing, earlier scheduled for Friday, was postponed because the Indian government failed to give the legal documents the Norwegian authorities had asked for.
The case has been further complicated by the fact that the uncle of the children, Arunabhash Bhattacharya, has also expressed his unwillingness to be their guardian, according to Indian government sources. Arunabhash, a young dentist from West Bengal, has been undergoing training sessions by the child welfare officials to position him as the children's guardian, and has denied these reports.
Anurup, a geologist, moved to Norway in 2006. Trouble began at Abhigyan's school where teachers found him distant. Visits by local authorities scaled up into a number of charges against the parents - Sagarika was reported as being clinically depressed, though no medical test was conducted. Anurup was evaluated as a parent more committed to work than to his children. Abhigyan, it was said, suffered from attachment disorder. The authorities claimed his reactions suggested he had either been hit or had been witnessing physical violence at home.
The Indian government was nudged into intervention by desperate visits to Delhi by Sagarika's aged parents. They held protests, met President Pratibha Patil and petitioned the media for assistance. As a result of the campaign, External Affairs Minister SM Krishna promised them that their grandchildren would be brought back to India "at any cost". India also rushed a special envoy Madhusudan Ganpathy to meet Oslo authorities and ask them to expedite the process.
But sources say the government of India may now step back from this case because they see it as a domestic dispute.