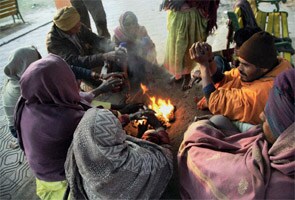 New Delhi:
Intense cold conditions on Saturday tightened its grip on northern India as temperatures plummeted further in the region, even as there were no reports of snowfall on Christmas in hill states.
Thousands of tourists were left disappointed as Shimla went without a "white" Christmas, but the intense cold wave remains unabated in Himachal Pradesh.
The minimum temperatures hovered around the freezing point with Bhuntar, Sundernagar, Solan and Mandi recording minus 1.4 degrees, minus 0.1 degrees and zero degrees Celsius, respectively. Shimla recorded a low of 3.1 degrees Celsius.
Una in Shivalik foothills shivered at 2.4 degrees Celsius while Palampur and Dharamsala recorded a low of 4 degrees and 4.5 degrees Celsius.
Nahan recorded minimum night temperature of 6.4 degree C, five degrees below normal, while Keylong and Kalpa in tribal districts of Lahaul and Spiti and Kinnaur shivered at minus 8.2 degrees and minus 3.0 degrees Celsius, respectively.
The cold wave aggravated in high altitude areas which reeled under minimum temperature ranging between minus 10 and minus 18 degrees Celsius.
Similarly, Kashmir division remained under the grip of the cold wave as the night temperature in Leh town of Ladakh region plummeted by nearly seven degrees to settle at a low of minus 16.4 degrees Celsius.
Leh was the coldest place followed by Kargil town where mercury stayed 11.6 degrees below the freezing point, a Met department official said.
The night temperature dipped in most parts of Kashmir Valley. Srinagar city recorded a minimum of minus 5.2 degrees Celsius against yesterday's minus 4.7 degrees Celsius.
In the Kashmir valley, Pahalgam health resort in south Kashmir was the coldest place witnessing a minimum temperature of minus 7.6 degrees Celsius.
The renowned Gularg ski resort in north Kashmir was the second coldest place in the state (minus 7 degrees Celsius),followed by Kupwara at minus 5.8 degrees Celsius and Qazigund at minus 5.2 degrees Celsius.
Kokernag town in Anantnag district recorded the highest minimum temperature but the mercury was still 3.2 degrees below the freezing point.
Cold conditions prevailed in Punjab and Haryana, too. Road traffic was disrupted at various places in the region due to the morning fog and mist. Several parts of the states, including Ambala, Karnal, Rohtak, Amritsar and Gurdaspur, experienced mist and fog in the morning.
Amritsar with 2.5 degrees Celsius, one below normal, was the coldest place in the region, a weather office spokesman said.
In neighbouring Haryana, Karnal recorded the minimum of 5.4 degrees Celsius which was two degrees below normal.
Chandigarh, the joint capital of the two states, had recorded a low of 5.2 degrees Celsius which was one degree below normal.
The weather would mainly remain dry in the coming two days even as the night temperatures are expected to dip in the two states, the Met said.