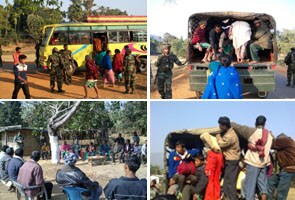 Shillong:
The Meghalaya government has announced a compensation of Rs 10,000 each to the families displaced in the ongoing ethnic violence in the state.
Informing this, Meghalaya Home Minister H D R Lyngdoh said three bundles of CGI sheets would also be given to the families as immediate relief.
On the other hand, the state Congress also announced Rs 5 lakh cash for the affected people.
"The party is concerned about the violence. A Congress team would visit the affected areas tomorrow to meet representatives of both the communities and remove any misunderstanding and try to regain confidence," Meghalaya Pradesh Congress Committee president Friday Lyngdoh said.
Besides Rs 5 lakh, Lyngdoh said Congress workers would collect kind from the Shillong public and distribute it to the affected families.
Government, he said, was seriously looking into the matter.
Some 20,000 people have been displaced in the Meghalaya and four killed in the Meghalaya side in the ethnic clash since January 1.