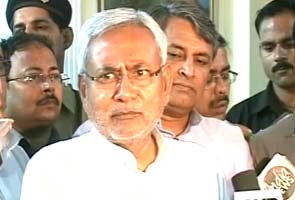 Patna:
Bihar Chief Minister Nitish Kumar of the Janata Dal (United) has conveyed to partner BJP, which leads their National Democratic Alliance that it need not hurry with announcing a prime ministerial candidate for the 2014 general elections.
Mr Kumar sounded a trifle irate today, saying he refused to react repeatedly to questions about who would be the face of the NDA in the general elections. "I have set no deadline for an announcement on the NDA's candidate for PM," he said adding, "It is not necessary to speak on the same issue every day...do leave it to me to take a decision on this when the time is right."
Mr Kumar's discomfiture on the issue would no doubt be heightened by the goings on in the BJP; there is a growing clamour to name Gujarat Chief Minsiter Narendra Modi as the party's candidate for PM and one of the most crucial reasons that the BJP leadership is loath to do that just yet is said to be Mr Kumar and his party's bitter opposition to Mr Modi.
The Janata Dal (United) says the shadow of the 2002 Gujarat riots, which happened under Mr Modi's watch, disqualifies him as a viable candidate to lead a joint NDA. So strong is Mr Kumar's aversion that he refuses to share stage with Mr Modi. He has often said that the BJP will be risking its 15 year old partnership with the JD(U) if it picks Mr Modi for the top role.
Another ally, the Shiv Sena recently suggested that the BJP name a candidate for PM well ahead of the general elections. The Sena said it backed Leader of Opposition in the Lok Sabha Sushma Swaraj for that role.