Highlights
JC Diwakar Reddy was 28 minutes late for his IndiGo flight to Hyderabad
Lawmaker damaged airport property after being denied boarding pass
Banned by Air India, SpiceJet and 4 others; has refused to apologise
Visakhapatnam:
JC Diwakar Reddy, the
Telugu Desam Party lawmaker who created a ruckus at the Visakhapatnam airport
on Thursday after being denied a boarding pass for arriving late by IndiGo, refused to apologise for his behaviour.
"(I have) Nothing to say. I don't want to speak anything (sic)," Mr Reddy said with folded hands, when asked if he was apologetic over his actions.
All domestic airlines have today imposed a flying ban on the parliamentarian for abusive behaviour. Civil Aviation Minister Ashok Gajapathi Raju said that the incident will be probed.
"
I will get the entire incident at Vizag Airport enquired into
to find out the exact details and ensure that lawful outcomes follow," Mr Raju tweeted.
The circle officer (CI) of the Vizag airport police station, however, said that they haven't received any complaint from IndiGo. "Primary enquiry was made but no one came forward," said Prabhar, circle officer told news agency ANI.
Mr Reddy is the second lawmaker to be grounded in three months; Shiv Sena's Ravindra Gaikwad who allegedly assaulted an Air India official was the first. The Gaikwad incident had prompted the government to come up with a no-fly list to bar abusive passengers. But Mr Reddy said there was no reason for him to say sorry.
"I never abused... never slapped anyone... There is no need at all for me (to say sorry). There is no sorry at all," Mr Reddy, 73, told NDTV, denying that he had lost his temper or assaulted anyone at the airport. Instead, he accused private airlines of fleecing passengers.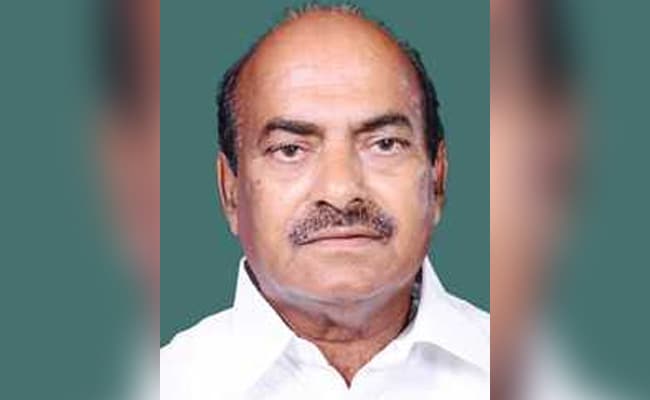 Diwakar Reddy is a Lok Saha MP from Andhra Pradesh's Anantapur constituency.
IndiGo initially refused to comment till it probed the incident. In a statement later, the airline says Mr Reddy was supposed to board a flight from Visakhapatnam to Hyderabad at 8:10 am, but he reached only 28 minutes before the scheduled departure. According to aviation regulator norms, check-in counters for all domestic flights are supposed to close 45 minutes before departure.
On CCTV footage, Mr Reddy - who is from the same party as the Civil Aviation Minister Gajapathy Raju - is seen arguing with airline officials, picking up a printer and then slamming it on the check-in desk, rushing behind a senior airline official and pushing him.
A six-time legislator in the assembly before he won the 2014 Lok Sabha election from Anantapur, however, "expressed his annoyance and soon raged against the staff using aggressive and abusive behaviour". The airline said footage aired by television channels also shows "visual representation of Mr Reddy's aggressive behaviour against the staff and further damaging the airport property".
In an interview with NDTV, Mr Reddy denies manhandling anyone. Instead, the lawmaker suggested he had just kept his arm on an official's shoulder.
"There is no spat, there is no pushing, there is no manhandling or anything. When I called him (official) to come out, he was coming out. I kept my this thing (pointing to his arm) on his shoulder. If you feel that is pushing and assaulting, I can't do anything," Mr Reddy said.
But the airline says he was late?
"They may say something but my version also, you have to listen. I was there by 7.35 or 7.40 am, I don't know," he said. The airline was supposed to have closed the counter by 7.25 am for the 8.10 am flight.
Mr Reddy said some passengers waiting near the counter told him that the airline had closed the counter by 7.10 am. "I asked them, closing and opening is within your hands. So just open it. Flight is here," he said.
But it seems he did not miss the flight. The Civil Aviation Minister was also in another part of the Visakhapatnam airport when the incident took place who intervened in his favour. "I boarded the same flight subsequently," a proud Mr Reddy later told NDTV.
With inputs from PTI