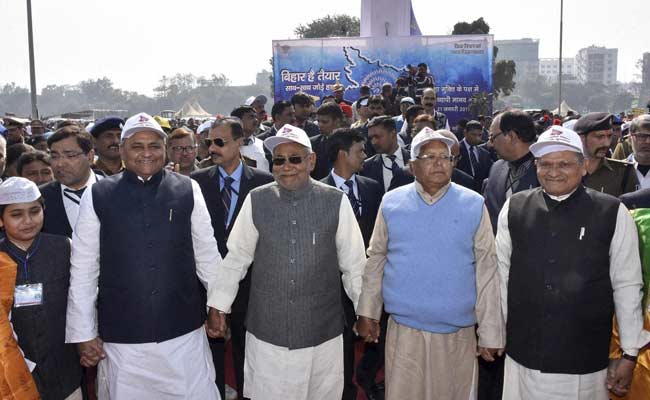 Highlights
Bihar officials caught drinking anywhere in the world will be punished
According to new rule, they may face salary cuts, suspension or dismissal
Bihar imposed a complete liquor ban nearly a year ago
Patna:
Officials of Bihar, which went dry 10 months ago, cannot drink outside the state or even abroad, in Chief Minister Nitish Kumar's new rule. The Bihar cabinet cleared an amendment in the state prohibition law earlier this week, after which bureaucrats, judges or magistrates caught drinking anywhere in the world will be punished.
They may face dismissal, suspension or even salary cuts. Service rules for officials, which banned them only from drinking on duty, have been amended.
Bihar is the first state to have such restrictions for officials and judges.
The drinking ban will also apply to Bihar officials on deputation outside the state.
Recently, the Chief Minister was asked at a public meeting whether bureaucrats can be put through alcohol tests. The man who asked the question alleged that officials were still drinking despite prohibition.
It is not clear yet how the government plans to keep tabs on officials outside the state. One report suggests that they may only act when there is a complaint.
After banning liquor completely in Bihar in April, making good on a poll promise, Nitish Kumar has called it a revolutionary step that has, in a single swipe, reduced crime, promoted communal harmony and improved the eating habits of people.
Last month, Mr Kumar and his ally Lalu Yadav joined thousands of people across Bihar in what was described as the longest a human chain ever in support of the liquor ban. Even rival BJP participated in the effort, spurred by Prime Minister Narendra Modi's praise of the ban. Officials claimed that images of the 11,000 km chain were taken by three satellites, aircraft, helicopters and drones.