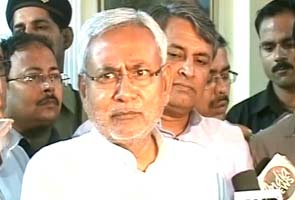 Patna:
Bihar Chief Minister Nitish Kumar today refuted reports that he is inching towards a relationship with the Congress. His denial will steady the nerves of his ally, the BJP, with who he governs Bihar.
Mr Kumar accused the Congress of "gross misgovernance" but said its talent for "jugaad" or crude but effective engineering will ensure that the government it leads at the centre completes its term.
National elections are scheduled for next year and recently, the Centre has said it is trying to work out the "special status" that Mr Kumar wants for Bihar, which would entitle it to tax breaks and financial assistance from Delhi.
Mr Kumar had said last month that his party would be prone to collaboration with whoever fulfilled Bihar's interests.
That was seen as a willingness to move away from the BJP and the coalition it leads, the NDA.
Mr Kumar's statement today may propitiate the BJP, but the partners have another dispute to tackle.
The BJP has acknowledged a national role for Narendra Modi, the Gujarat Chief Minister, who has prime ministerial ambitions. But Mr Kumar has indicated that if Mr Modi is made the prime ministerial candidate of the NDA, he will exit the political conglomerate.
For Mr Kumar, the support of Bihar's Muslims, who form around 15 per cent of the population, is crucial.
Mr Modi was in office when Gujarat was ravaged by communal riots in 2002, in which more than a thousand Muslims were killed.
Mr Kumar has kept Mr Modi from campaigning in Bihar for the last state and national election.