Highlights
NDTV conducts hidden camera investigation in UP, Rajasthan lynchings
Accused out on bail after claiming innocence in court
Now, they brag about how they killed men in the name of cow protection
HAPUR, ALWAR:
An NDTV investigation involving hidden cameras has revealed disturbing accounts of those accused of lynching in the name of the cow.
An NDTV team, posing as a researchers doing field work on the Rashtriya Swayamsevak Sangh (RSS) and other Hindutva outfits, visited the accused in two lynching cases in two states.
The first report was on a lynching in Hapur, in Uttar Pradesh. It is here that on June 18, when a 45-year-old Qasim Qureshi, a meat trader, was lynched by a mob, while 65-year-old Samiuddin, a farmer, was badly injured.
The police arrested nine men, charging them with murder, attempt to murder and rioting. Four of the nine are currently out on bail.
NDTV travelled to Bajedha Khurd village in Hapur to meet one of the accused, Rakesh Sisodia, who is out on bail.
Sisodia, in a written statement to court, said that he had no role in the attack and wasn't present at the spot. But on hidden camera, he bragged about the crime, saying he even accepted it before jail authorities. Sisodia had spent five-weeks in jail.
"Haan maine bola ki wo gaaye kaat rahe they, maine usko kaat diya... jailer ke saamne (I told the jailer that they [the victims] were slaughtering cows so I slaughtered them)," Sisodia told NDTV.
"Pehli baar mai jail gaya, mujhe dar lagna chaaiye thaa. Lekin nai maine waha bhi khoob dhoom machaai aur jailer ne jaate hi poocha ki kis case mein aayae ho? (I wasn't scared to go to jail. I caught the attention of the jailer, who asked me what my case was)," he said.
Sisodia went on: "Maine turant kaha, 302 aur 307, full murder and half murder, wo gaaye kaat rahe thee maine usko kaat diya baat khatam (I said section 302 and 307, full and half murder, they slaughtered cows, I killed them)."
Sisodia explained how he got a hero's welcome after he got bail in the last week on July. "Mujhe 3-4 gaadi jail par lene gai thi. Rakesh Sisodia zindabd ke naarey laagey. Mera swaagat kiya logo ne baahe failaa ke, mujhe bada garv hua (3-4 cars had come to pick me up from jail. People were raising slogans in my name. People welcomed me with open arms, I felt very proud)," he said.
"Meri fauj tayaar hai. Koi gaaye kaate, s*** mai usko katwaa denge, s*** ko khade khade. Hazaar baar jail jaana pade jaayenge (My army is ready. If anyone slaughters a cow, we will kill them and go to jail a thousand times)" he said.
He also went on to speak about police support. "Police paksh me hai aur ye sab raha sarkaar kaa dum. Warna police paksh me nai rahti agar Azam Khan baithaa huaa rahta (The police is on our side because of the government. Otherwise, nothing would've happened if Azam Khan was in power)," he said. (Mr Khan was minister under the previous Samajwadi Party government.)
In the video of the attack, bystanders can be heard asking Qasim to be given water. Sisodia's account of this moment is chilling. "Maine kaha tujhe paani peene kaa haq nai hai, tune marti hui gaaye ko paani nai diya. Meri fauj tujhe choregi nahi tujhe ek ek minute maaregi s*** ko. (I said he has no right to drink water, he slaughtered a cow. My army will kill him by every minute)," he said.
"Mujhe lag nai raha thaa ki s*** Qasim marega, wo bach gaya Samiudin ghutno mein se khoon tango me se khoon (I thought Qasim would die, but that Samiyuddin was bleeding)," he added.
From Hapur, we travelled to Behror town in Alwar, nearly three hours from Jaipur.
It is here that Pehlu Khan was lynched by a mob in April 2017, for allegedly transporting cows for slaughter.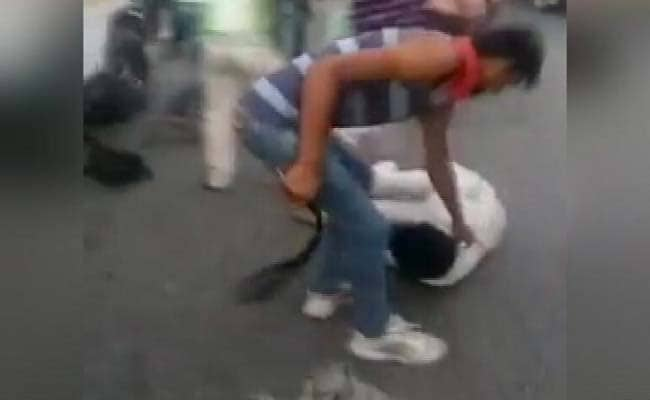 Police arrested and charged nine men; all of whom are out on bail.
One of them is Vipin Yadav, who, like the other accused, claimed they had no role in the killing.
Here again, posing as research scholars from the US, NDTV spoke to Vipin. "Haan humlog 1.5 ghante tak pitate rahe ... pehle 10 aadmi aaye phir 20 aadmi aaye waha karib 500 log akatrit ho gaye (We kept beating him up for 1.5 hours. First there were 10 people then the crowd swelled)," he said while our hidden cameras recorded him.
Vipin also states a key detail about his role in the crime. "Maine hi nikaale the, aur bike aage nikaalne ke baad bhi wo rok nai rahe they, toh maine zabardasti chaaabi nikal ke unko baahar nikaal liya (They weren't stopping their trucks, so I had to overtake them and take their keys to catch them),"he said.
"Han unki haalat aisi hogai thi ki zada maar pitaai hogai thi, 2 pickup ki chaabi mere paas hi thi, mere pocket me hi rah gai thi (He [Pehlu] was badly beaten up, while that happened I had forgotten that the keys to his truck were left in my pocket)."