Alwar:
In a video that is being widely circulated, a mob chases, kicks and punches five men who were going back home to Haryana after buying cows in Jaipur. One man is seen slumped on the road, unconscious. Pehlu Khan, 55, died in hospital yesterday and his four companions are in hospital. The state's home minister, Gulab Chand Kataria, has shockingly defended the lynch mob - describing them as
Gau Bhakts
(cow protectors) - and blamed the victims.
Pehlu Khan and his associates had reportedly produced documents to show they had bought the cows from a "
Pashu Mela
" or livestock fair in Jaipur. They were dragged out of their pick-up truck on the highway and thrashed, shows the video apparently filmed by locals.
The five victims are among the 10 charged by the police. Not one attacker has been named, even though a murder case has been filed.
The minister said, "The problem is from both the sides. People know cow-trafficking is illegal but they do it.
Gau Bhakts
try to stop those who indulge in such crimes. However, taking law in one's hand is wrong. Police will act against both sides."
Pehlu Khan's son Irshad said their papers were valid, but the police tore them saying those would not work. A senior police officer, Rahul Prakash said the allegation would be investigated "but for the time being, the victims were also being treated as accused".
The police version appears to support the self-appointed cow vigilantes.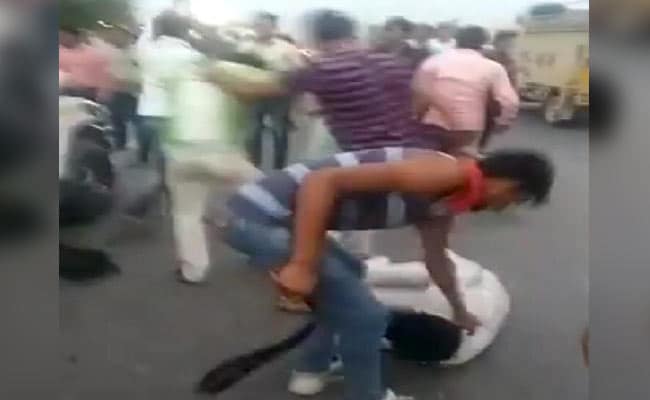 "Police got information that some people are smuggling cows from Jaipur and are headed to Delhi. Behrod police caught some trucks and some trucks escaped, these trucks were forced stopped by public and the drivers were beaten by the public," said a senior police officer, Paras Jain.
The police say the attackers were from the Bajrang Dal and the Vishwa Hindu Parishad.
Cow protection has been in the news over the past few days amid tough steps taken in BJP-ruled states like Uttar Pradesh and Gujarat. New UP Chief Minister Yogi Adityanath has ordered a
crackdown on illegal slaughterhouses
and in Gujarat, the punishment for cow slaughter is a
life term after changes to law
.
Last month,
a mob attacked a hotel in Jaipur
, alleging that it was selling beef.