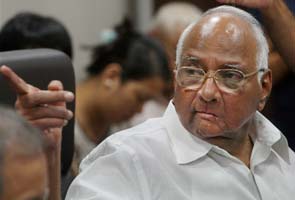 Mumbai:
Sharad Pawar's Nationalist Congress Party or NCP has aggressively countered allegations that its leader is corrupt or has ambitions to be the next prime minister, charges levelled by Shiv Sena leader Uddhav Thackeray.
In an interview today to his party mouthpiece, Saamna, Mr Thackeray was asked if the Sena would support Mr Pawar as a Prime Ministerial candidate for the 2014 Lok Sabha elections.
"Will Pawar support our Hindutva and son-of the-soil agenda? As a Marathi leader sitting in Delhi what has he done for Maharashtrians?" asked Mr Thackeray, adding, "Pawar has always used power for his personal benefit."
The NCP has co-governed Maharashtra in partnership with the Congress for over a decade. It is also a member of the Prime Minister's coalition.
An NCP spokesperson negated Mr Thackeray's charges and claimed that Mr Pawar has no prime ministerial ambitions. "Uddhav's allegations are baseless. Pawar has only taken the country ahead while the Sena has promoted hate. We are a small party. How can we claim the PM's post? In fact Sharad Pawar has no desire to be Prime Minister," Nawab Malik said.
Mr Thackeray's statements against Mr Pawar have surprised many given the close relations his late father Bal Thackeray shared with the NCP stalwart. In fact, Mr Pawar visited Bal Thackeray at his home in Mumbai before the Sena leader died in November last year.
Mr Pawar was also instrumental in ensuring that the Shiv Sena supported the ruling coalition's candidate for President, Pranab Mukherjee, though the Sena's ally, the BJP, fielded its own candidate.
Maharashtra votes for its next government next year, along with the general elections. Mr Thackeray says he is considering an alliance with his cousin, Raj Thackeray and his party, the MNS. The combined force of the Thackerays and the BJP could offer serious competition to the ruling Congress-NCP government.
Mr Pawar's party dismissed suggestions that this is leading to deliberations over whether to abandon the Congress. The party said it would not strike any partnerships that "hurt its secular credentials".