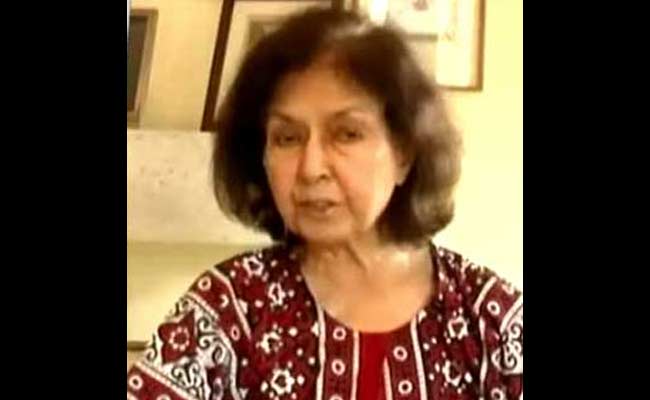 Kolkata:
Eminent writer Nayantara Sahgal on Saturday clarified that she was not taking back the award and questioned the timing of Sahitya Akademi's announcement of a policy not to take back awards.
"I don't know why this nonsense is being spread that I have taken it back. The Sahitya Akademi rang me today that it is not their policy to keep returned awards and so they are sending back the cheque I sent them," Ms Sahgal told Press Trust of India on the sidelines of the Tata Steel Kolkata Literary Meet.
Asked about the timing of the decision, she said, "I think it has a lot to do with Rohith's suicide (in Hyderabad Central University) which I call murder. It is as good as murder. Technically suicide, but he was driven to murder," the 88-year-old author said.
The Akademi had yesterday said there was no provision in its constitution to accept any honour once conferred upon a writer.
The Akademi had also said that some authors have accepted the award back.
"The Akademi attacked me saying I am returning the money but not the interest. That made me very upset and therefore, I sent them a cheque of Rs 1 lakh but that has been lying with them ever since. And now suddenly they are saying that it is not our policy. It is their problem not mine," she said.
Ms Sahgal said they were fighting for freedom of speech and expression but after the Dadri lynching incident, the issue became big.
"It worsened when Akhlaq was lynched. That made it a much wider debate. We were fighting for freedom of speech and expression but that became a country wide issue of the freedom to live and worship as you choose. Later on historians and scientists also joined," the niece of India's first prime minister Jawaharlal Nehru said.
Ms Sahgal has been protesting against what she calls a "vicious assault" on country's diversity and debate, and the government's failure to safeguard it.