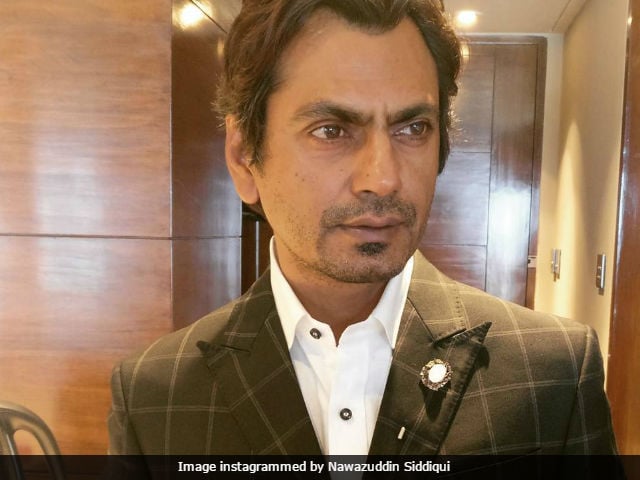 Highlights
Nawazuddin didn't give details of the incident prompting the tweet
"You're an actor and not a model," said his fans
"You are special Nawaz," said filmmaker Hansal Mehta
New Delhi:
A tweet from actor Nawazuddin Siddiqui hinting at Bollywood's racist underbelly is at once illuminating and obfuscating. This morning, the 43-year-old actor posted a tweet addressed to nobody in particular, that read: "Thank you for making me realise that I cannot be paired with the fair and handsome because I am dark and not good looking, but I never focus on that." Nawazuddin's tweet is perhaps a response to what Sanjay Chauhan, the casting director for the actor's film
Babumoshai Bandookbaaz
, told
Deccan Chronicle
this week: "We can't cast fair and handsome people with Nawaz. It would look so weird. You have to take people with distinct features and personalities when pairing them with him."
See Nawazuddin Siddiqui's tweet:
Thank U 4 making me realise dat I cannot b paired along wid d fair & handsome bcz I m dark & not good looking, but I never focus on that.

— Nawazuddin Siddiqui (@Nawazuddin_S) July 17, 2017
Nawazuddin Siddiqui has been flooded with encouraging responses from director Hansal Mehta and others praising his talent and telling him he's 'special':
That's why you are special Nawaz.

— Hansal Mehta (@mehtahansal) July 17, 2017
You're an actor and not a model. You're one of the best talents we have in our country, sir.

— Sumit (@SRKholicSumit) July 17, 2017
You may have dark complexion but they have dark heart. People like you can even shine even in the darkness (Bollywood ).

— Naveen Kumar Singh (@Na7vs) July 17, 2017
I think you looked very handsome in Kahaani. I am pretty sure you can carry any role, even chocolate hero.

— Deeps (@LouveWaiWai) July 17, 2017
Arey Kaun bola bhai? nam to bata pic.twitter.com/IXtR5GkQKd

— #007 (@sherlock551) July 17, 2017
Speaking to NDTV, Nawazuddin Siddiqui said racism is prevalent everywhere, saying his acting ambitions were laughed at in his village because of the way he looks. He refused to say whether his tweet was a response to Sanjay Chauhan's comment.
The film industry's preference for 'fair and lovely' has been actively contested in the recent past. Months ago
, Abhay Deol shared a series of posts on Facebook
calling out colleagues like Shah Rukh Khan, Shahid Kapoor, Sonam Kapoor and Deepika Padukone for appearing in advertisements for fairness creams. Actress Tannishtha Chatterjee wrote about leaving a comedy show she was appearing on as a guest midway after rude jokes were made about her complexion.
Nawazuddin's Manto director Nandita Das
spearheads a campaign titled 'Dark Is Beautiful.'
Nawazuddin Siddiqui started off in Bollywood years ago with small parts in films such as
Sarfarosh
and
Dev D
. He then shot to fame with pivotal roles in
Kahaani
and
Talaash
and has had his pick of projects ever since, starring in acclaimed films like
The Lunchbox
and
Badlapur
. This year, he has co-starred with Shah Rukh Khan in
Raees
and Sridevi in
MOM
. He appears in this week's release
Munna Michael
with Tiger Shroff.