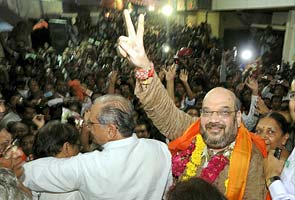 New Delhi:
Controversial Gujarat politician Amit Shah will remain on bail for now, the Supreme Court has ruled, providing a breather for the man whose proximity to chief minister
Narendra Modi
landed him a major promotion recently in a BJP overhaul of important posts in the party.
Mr Shah was arrested for using his office as Home Minister to conspire with the state police for the murders of Sohrabuddin Sheikh and Tulsiram Prajapati. Both men were killed in alleged fake encounters.
Mr Shah had been granted bail in the Sohrabuddin Sheikh case. The CBI wanted the second encounter to be treated as a separate case, which would mean that Mr Shah could have been re-arrested. He would then have been forced to apply for bail in this new case, which is why he had asked the Supreme Court to treat the two fake encounters as one case.
That is what the court has agreed to today.
Sohrabuddin Sheikh was a small-time criminal who was allegedly blackmailing the powerful marble lobby in Rajasthan, which then allegedly approached Mr Shah to have him shot. When Mr Sheikh was killed in November 2005, the cops said he was a Lashkar-e-Toiba terrorist who was on his way to assassinate Mr Modi as chief minister.
Tulsiram Prajapati was an eyewitness to the alleged fake encounter. He was killed in December 2006, while in police custody.
Mr Shah was forced to resign as Home Minister in 2010 and was arrested and spent three months in jail. He was ordered by the Supreme Court to stay away from Gujarat so that he would not influence the investigation against him. In September, he was allowed to return to his home state. He contested last year's Gujarat elections and won handsomely from his constituency.
Last week, he was made a General Secretary of the BJP, landing a top post despite the serious criminal charges against him.