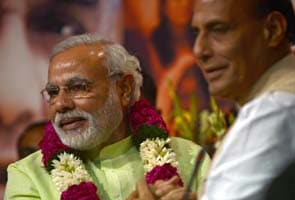 Bhopal:
Madhya Pradesh Chief Minister Shivraj Singh Chouhan today congratulated his Gujarat counterpart
Narendra Modi
on being made BJP's Prime Ministerial nominee, saying his dynamic leadership will ensure "astounding victory" for the party in the 2014 Lok Sabha polls.
In a Twitter post, Mr Chouhan also said Mr Modi's leadership shall take India to great heights which this nation and its citizens deserve.
"I congratulate Shri @narendramodi on being nominated as party's PM candidate. His dynamic leadership would ensure astounding victory for us... The leadership of Shri @narendramodi shall take India to great heights which this nation and our citizens deserve," he tweeted within hours after the announcement of Mr Modi being projected as BJP's PM candidate by party President Rajnath Singh in New Delhi.
Mr Chouhan had last Friday dubbed as "baseless" the reports that he had reservations to having Mr Modi being projected as the BJP's PM nominee.
"Reports in certain sections of media about my objection to Modi being declared as PM candidate are baseless and misleading," he said on micro-blogging site Twitter.
There has been a lot of speculation about Mr Chouhan opposing Mr Modi and this talk gained ground after BJP veteran LK Advani praised the MP Chief Minister and put him in almost the same league as his Gujarat counterpart, at a party function in Gwalior this year.
Madhya Pradesh BJP unit vice president Prabhat Jha had also ruffled feathers when he said last month that "Chouhan is good enough for the BJP to win the upcoming Madhya Pradesh polls and Narendra Modi was not needed here."
Mr Chouhan's perceived opposition to Mr Modi also became evident when pictures of the Gujarat strongman were not seen anywhere near Mr Chouhan's "Jan Aashirwad Yatra."
However, Mr Modi's pictures appeared a few days ago on the Yatra route and gave an impression that Mr Chouhan was not against the senior leader.