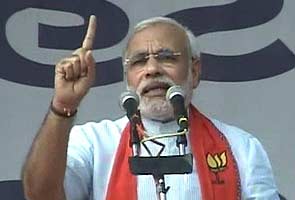 New Delhi:
Narendra Modi has lashed out at the Congress-led UPA for the "timing" of the Telangana decision and asked the government to apologize to the people of Andhra Pradesh for treating them like "doormats".
In a blog, Mr Modi welcomed the creation of a separate state of Telangana, but questioned the UPA government's motives.
"The Congress Party has done in the last few days what it shied away from doing in the last 9 years - to work overtime on a decision over Telangana. Now, at a time when there are only a few months left before the people of this country vote again, the Congress Party is rushing to announce Telangana. This raises serious concerns on the seriousness and intentions of the Congress," Mr Modi wrote. (
Read Narendra Modi's blog on Telangana here
)
Mr Modi posed five questions to the Congress and the UPA, which included concerns on Hyderabad as the shared capital and reassuring the people of Andhra and Rayalaseema about the changes.
The Gujarat chief minister, who was last month elevated to head BJP's poll campaign for 2014, cautioned the people of Andhra Pradesh against trusting "a party (Congress) and a Government (UPA) that has betrayed the people on the issue of Telangana time and again."
"It is indeed ironical that the Congress Party has sought to hide itself behind committees, reports and futile deliberations instead of courageously facing the people of Andhra Pradesh. Neither the Congress President nor the Congress Vice President have set foot into Andhra Pradesh in recent years, despite the fact that Andhra Pradesh sent the highest MPs for the Congress both in 2004 and 2009."
In an open letter to the people of Andhra Pradesh, Mr Modi, who is scheduled to address a huge rally in Hyderabad on August 11, reiterated that the BJP-led government had created three new states of Chhattisgarh, Uttarakhand and Jharkhand in 2000. "The BJP has been forthcoming and transparent in its support for statehood to Telangana," he wrote.