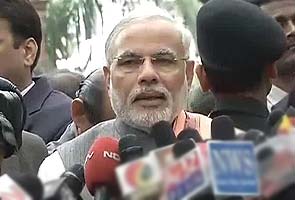 New Delhi:
Recently,
Narendra Modi
promised a group of college students in Gujarat that he intended to remain the Chief Minister of the state which re-elected him for a fourth term in December, 2012.
Now, within three days of Mr Modi being chosen as the BJP's prime ministerial candidate, the Rashtriya Swayamsewak Sangh or RSS, the powerful ideological mentor of the BJP, and his party president have ruled that Mr Modi must honour that commitment.
On Friday, Mr Modi was declared the BJP's choice for Prime Minister, a move initiated and executed aggressively by the RSS.
Both the RSS and BJP chief
Rajnath Singh
have also reportedly decided that Mr Modi will not have a Deputy Chief Minister in Gujarat, or curtail his responsibility as the Chief Minister till the national elections are held.
Sources say that the RSS and the BJP chief are keen to avoid the development of a second power centre in Gujarat which may undermine Mr Modi's position.
The RSS decision that Mr Modi will neither leave Gujarat nor appoint a deputy ends the speculation on a view floated by Mr Modi's detractors in the BJP that he should step down from the chief minister's post or appoint a deputy for smoother functioning of the Gujarat government.
However, sources say Mr Modi will soon give up his post as head of the campaign for the national elections due by May. A new campaign chief will reportedly be picked in consultation with Mr Modi.
He was made head of the campaign committee on June 9 at a BJP conclave in Goa, provoking the BJP's most senior leader LK Advani to resign from all party posts.
24 hours later, RSS chief Mohan Bhagwat had persuaded Mr Advani to return to the fold.
Last week, Mr Advani once again fought the decision to make Mr Modi the BJP's candidate for Prime Minister but was overruled.
In fact, in a turnaround, Mr Advani praised Mr Modi at a rally in Chhattisgarh on Monday.