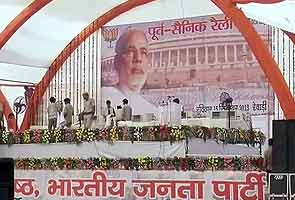 Rewari:
Gujarat Chief Minister
Narendra Modi
will address his first rally after being anointed the BJP's prime ministerial candidate for the 2014 general elections in Haryana's Rewari town today.
The rally is expected to be attended by more than a lakh people, mostly ex-Army men, at the Secretariat Grounds in Rewari, 90 km from Delhi. Former Army chief, Gen (retd) VK Singh is also likely to attend.
Mr Modi's speech is likely to be watched for any promises he makes on issues concerning ex-servicemen and his attack on the United Progressive Alliance (UPA) government for its handling of security issues such as incursions by China, repeated ceasefire violations by Pakistan and instances of attack on Indian soldiers.
The rally has generated controversy with unidentified people blackening the posters and a state Congress minister flaying Mr Modi for the rally, news agency IANS said. Haryana is ruled by a Congress government.
State Power Minister Ajay Singh Yadav on Saturday slammed the rally in Rewari, home to ex-servicemen, and expressed opposition to Mr Modi's idea of telling what the Gujarat government was doing for people's development and welfare.
"Modi should have chosen a state that lags Gujarat. Haryana is ahead of Gujarat in key fields, including social welfare schemes, especially for defence personnel and ex-servicemen," he claimed.
Mr Modi was anointed as the BJP's prime ministerial candidate on Friday, despite stiff resistance from party patriarch LK Advani.