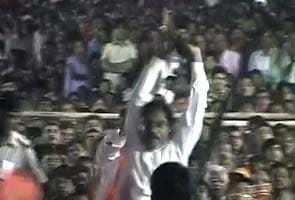 Ahmedabad:
Former cricketer and BJP's Member of Parliament Navjot Singh Sidhu's remark, in which he termed Gujarat Parivartan Party (GPP) president Keshubhai Patel as an 'anti-national leader', has triggered a political storm in the state only days ahead of the assembly elections.
As a mark of protest Mr Patel's party approached the Election Commission to take action against the BJP. GPP workers also raised slogans and showed black flag to Chief Minister Narendra Modi, who is looking for a third successive term, on Saturday at an election rally in Surat. The protesters were detained later.
The political row was triggered by Mr Sidhu when, addressing a public rally in Visavadar constituency in Junagadh district recently, he called Mr Patel - who severed ties with the BJP to form his new outfit GPP - an 'anti-national' leader. Mr Sidhu had said, "In Gujarat, the contest is only between the BJP leaders. On one side we have that party traitor (Keshubhai Patel) and on the other hand we have the party's support. The person who backstabbed us, is not worthy to be voted in."
The GPP, which heavily banks on the support of the Patel community, has appealed to the Election Commission to take suo motu action against Mr Sidhu and his party.
Mr Patel alleged that Mr Sidhu made the comment at the behest of BJP and Mr Modi. "BJP and Modi are afraid of GPP and that is why they are resorting to such tactics," he added.
Daring Mr Modi to point out any instance of anti-national activity against him, he said he should be hanged if there is an iota of truth in the allegation.
"Calling me anti-national tantamount to comparing me with Kasab. Anti-national citizens are hanged," he said.
"BJP is ready to go at any level to win this election and its comments are highly condemnable," he said.
The former Chief Minister, who is a Lehua Patel leader, is contesting from Visavadar Assembly seat against two-time sitting BJP MLA Kanubhai Bhalala. Congress has not fielded any candidate from the seat.
Visavadar and 86 other assembly seats, spread across Saurashtra, South Gujarat and four talukas in western Ahmedabad, will go to polls in the first phase of voting on December 13, while 97 constituencies spread across Kutch in Western Gujarat and central and northern parts of the state on December 17.
Counting of votes will be held on December 20. Meanwhile, a private complaint seeking registration of a criminal defamation case against Sidhu over his remarks about Patel has been filed with a magistrate's court in Rajkot.
Chief Judicial Magistrate AA Vyas is likely to give his ruling on the complaint on Monday.
Complainant Bipin Jagjivan Rughani said that Sidhu's comment was an insult to the "whole of Gujarat state".


(With inputs from PTI)