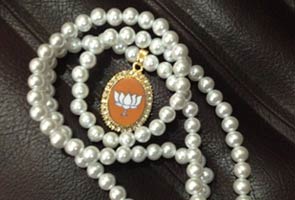 New Delhi:
The BJP today had the last laugh in a trifling case involving Narendra Modi and a necklace.
On the day Mr Modi was declared the BJP's prime ministerial candidate, the party's former president Nitin Gadkari gifted him a necklace.

Since nothing about Mr Modi could go without scrutiny, Sharad Pawar's Nationalist Congress Party, a Congress ally at the Centre, wanted to know the price of the necklace which it claimed was made of pearls and diamonds, and easily worth crores.

"We want to know what the value of the necklace is. Is it Rs 50 crore, Rs 5 crore, Rs 50 lakh or Rs 5? The people are eager to know," the NCP leader Nawab Malik had said.

The BJP today revealed the necklace, whose alleged price had rattled the opposition, was a trinket available in the market for a bare Rs 100, the lotus insignia notwithstanding.

No wonder Mr Modi wore it for a while before handing it over to his staff at what was perhaps the most important event of his political career so far.