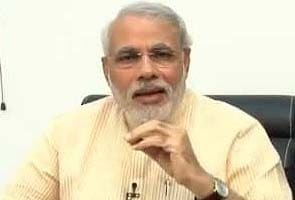 Mehsana (Gujarat):
Launching a month-long campaign in poll-bound Gujarat, Chief Minister Narendra Modi on Tuesday accused Congress of "misusing" the CBI to target him and also demanded that the Prime Minister face a SIT probe in the coal block allocation scam.
Seeking a fourth term in office, the BJP stalwart also slammed the Congress for "attacking the constitutional authorities", accusing it of whipping up an atmosphere of anger against the Government auditor CAG like it did against the Supreme Court in the 2G spectrum allocation case.
Signalling that he would fight the coming polls on the plank of "injustice meted out to Gujarat", Mr Modi struck an aggressive tone to kickstart his 2012 month-long campaign through Swami Vivekananda Yuva Vikas Yatra from the holy town of Becharaji in Mehsana.
He appealed to people to work towards "Congress-free Gujarat" on the lines of "gutka-free Gujarat" to wipe out "cancer". Assembly elections in the state are due in December this year.
"I have faced multiple probes, now let the Prime Minister face a SIT probe on coal block allocations," he said. He also added,"To corner me, they form an SIT whenever they want to."
"I appeal to him(Manmohan Singh) and Congress to come forward and have a competition in facing probes," Mr Modi said adding, "Let us see who has more prowess in facing such probes."
A Special Investigation Team (SIT) has been formed by the Supreme Court to investigate the 2002 post-Godhra riot cases. The CBI is also investigating various fake encounter cases in Gujarat.
Taking a swipe at Congress, the Chief Minister alleged that the opposition party was not alone in fighting the assembly polls, as the CBI was also with them.
He alleged that the Congress had a habit of targeting constitutional authorities by creating an atmosphere of anger against the institutions that did not toe its line.
"On the one hand they (Congress) praise the Constitution while on the other if anything goes against them, they speak against the authorities. Now, the Comptroller and Auditor General (CAG) is their target," Mr Modi said.
He further said that on the 2G issue, Congress leaders had adopted a similar stand towards the Supreme Court. Now, the CAG's credibility is being questioned by the Prime Minister and his colleagues.
"This was Indira Gandhi's way. If you are not with her, create an environment against them. Today Congress is doing the same," he said.
The Chief Minister also utilised the event to ridicule state Congress leaders for their pleas to the people to oppose him during his yatra.
"Are you so scared that you won't listen to my voice? Do you want Sonia Gandhi and the Prime Minister to face similar opposition when they come here," he said.
He said in a democracy everyone had a right to place his or her views. Taking a dig at local Congress leaders, he said his government would extend all possible support for them to place their views before public.
Blaming the UPA government for the current economic situation, he said the Prime Minister should follow the Gujarat model of development.
Addressing a huge gathering in the presence of former BJP president Rajnath Singh and the Leader of Opposition in Rajya Sabha Arun Jaitely, Mr Modi exuded confidence that BJP would easily retain power.
"I do not need to make different appeals to win elections among people. The decade-long record of government's hard work speaks (for itself)," Mr Modi said.
Taking a dig at Congress' poll ad-campaign in Gujarat, Mr Modi said, "There are advertisements on television ninety times a day- 'disha badlo, dasha badlegi'. But what disha (direction) is this? The same disha of Delhi?"
"Do you want the same durdasha of Delhi in Gujarat? Corruption, curfew-- do you want all this? Gujarat does not want to see it now," Mr Modi said.
Mr Jaitely said under the Congress-led UPA government, corruption had reached its zenith and all developmental work had come to a standstill.
"The term 'policy paralysis' has been used for the first time in the country for this government," Mr Jaitely said.