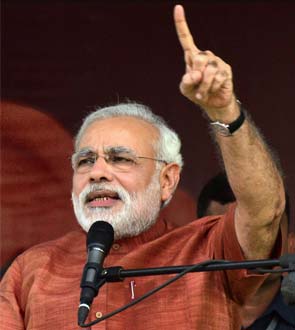 Hyderabad:
Narendra Modi
, chief architect of the BJP's election campaign for 2014, today wooed south leaders like J Jayalalithaa and Chandrababu Naidu with praise and the call for a combined effort to make the country "Congress-free."
Addressing a capacity crowd at Hyderabad's LB Stadium, that holds 50,000 people, the Gujarat Chief Minister ripped into the Congress-led UPA government at the Centre on a host of issues including foreign policy, the economy and Telangana.
Mr Modi, who also spoke a few words in Telugu, accused the Congress of "turning brother against brother" in Andhra Pradesh, referring to the protests that its announcement for a separate Telangana state last week has provoked in the coastal Andhra and Rayalaseema regions, collectively known as Seemandhra.
(Read highlights of Narendra Modi's speech)
Praise for Tamil Nadu Chief Minister was also strategically arranged in Mr Modi's speech today. "I want to tell Congress leaders in Andhra Pradesh," he said, "if you hate Gujarat, don't look at us. Look at neighbouring Tamil Nadu where Jayalalithaa has invested in skill development."
The BJP has been looking at the AIADMK chief as a potential ally for some time now. Ms Jayalalithaa's party too participated in the Vajpayee government and she has said she counts Mr Modi as a "very good friend".
"For us, Telangana is as important as Seemandhra... I appeal to you, no matter what games Congress plays, don't fight amongst yourselves," he said. The crowd chanted "
Jai Telangana, Jai Seemandhra
"; many who could not find place in the stadium watched him speak on 12 LED screens installed outside.
Mr Modi invoked the legacy of former Chief Minister NT Rama Rao, idolised by many in Andhra Pradesh, and said the most fitting tribute to him would be to oust the Congress. "Telugu Desam, who has NTR's legacy, must see that his dream is realized," Mr Modi said. Chandrababu Naidu, NTR's son-in-law, who heads the Telugu Desam Party or TDP, has previously been an ally of the BJP both at the Centre and the state. The TDP is the ruling Congress' chief rival in Andhra Pradesh.
Mr Naidu has, in the past, regretted continuing support to the NDA government after the Gujarat riots of 2002; Mr Modi's rivals accuse him of not doing enough to prevent the death of hundreds of Muslims in the communal riots under his watch.