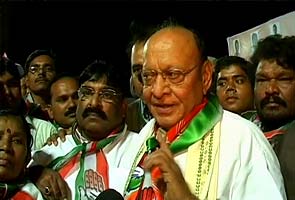 Surat:
With elections in Gujarat round the corner, the Congress has once again raked up the issue of 2002 riots. Addressing a rally in Surat on Wednesday, senior Congress leader Shankersinh Vaghela alleged that the Godhra carnage was pre-meditated by the Gujarat Chief Minister Narendra Modi.
Mr Vaghela called the Modi's government one with a blood on its hand.
"
2002 me jo katl-e-aam hua uspe wo sarkar bani hai. Iske baad encounter hui, uske upar ye sarkar bani thi. Sarkar banti hai, lekin ye jo conspiracy karke sarkar banana hai, ye Gujarat aur desh ki janata jaanti hai aur aaj wo repeat nah o, iske liye hum janata ko request karte hain
(This foundation of this government rests on the 2002 carnage. Governments are made, but not on conspiracies. And the people of Gujarat know this, and that's why we are requesting the people for a change)," Mr Vaghela said.
After the address, when mediamen pointed out to the Congress leader that he could incur Election Commission's wrath, Mr Vaghela hit back saying telling the truth doesn't amount to violation.
Earlier in July, Mr Vaghela's attempt at plainspeak had left his party somewhat embarrassed in Gujarat.
The former Union Minister, who is also in charge of Gujarat, had exhorted Muslims to vote for the Congress since it had been branded a pro-Muslim party.
Speaking at a meeting of the Congress' minorities cell in Gandhinagar, Mr Vaghela had said, "We are dependent on you. It is because of you that we have been branded pro-Muslim. We have expectations from you. The voting so far has been 10, 15, 20 per cent - your low turnout won't help. We are not begging. If you want more, it won't harm you. It will help you decimate people who are against you."
Mr Vaghela is an import from the BJP. He has roots in the Rashtriya Swayamsevak Sangh (RSS) and joined the Congress less than two decades ago.
Blatant use of the Muslim card backfired for the Congress in Uttar Pradesh earlier this year; open efforts by senior Congressman to consolidate the substantial Muslim vote in that state came to naught. In Gujarat, the Congress will find it difficult to forget how efforts to get the Muslim vote with an anti-Modi sentiment, which included Congress president Sonia Gandhi calling him a "maut ka saudagar" or trader of death, had only seemed to help Gujarat Chief Minister Narendra Modi return to power with an emphatic win in the 2007 assembly elections.