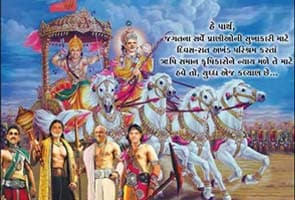 Rajkot:
Chief Minister Narendra Modi has been depicted as Lord Krishna in a BJP advertisement published in a local newspaper in Gujarat today.
The advertisement was placed by local BJP leader Bharat Kamdar, who heads the party's branch in the Amreli district. The ad also shows Gujarat BJP President R C Faldu as Arjun and party leaders Vijay Rupani, Purshottam Rupala and I K Jadeja as the Pandavas.
The advertisement, given as part of BJP's promotion of "Kishan Yatra", has appeared in the Saurasthra edition of a vernacular daily. Mr Faldu will lead a yatra that will be flagged off by the chief minister this evening.
The yatra's aim is to create awareness among farmers of Saurasthra region about adopting scientific ways to improve quality and quantity of agriculture products, Mr Faldu had said yesterday to media persons.
It would also highlight UPA Government's "anti-farmer" policies, he had said.