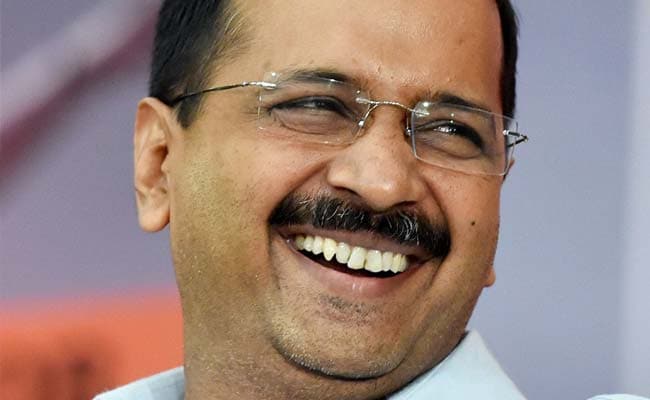 New Delhi:
Delhi Chief Minister Arvind Kejriwal today said his "people-centric" model of governance was better than Prime Minister Narendra Modi's model that he alleged was centred around a "handful" of the country's rich.
Stressing that he was focusing on governance and not internal fights in the Aam Aadmi Party, Mr Kejriwal also said that after coming to power he has realised that his "real fight" was against bureaucracy and he was working on ushering in major "structural" changes.
"I am above all these fights. I am concentrating on governance. I have not come here to fight," Mr Kejriwal said after launching a book authored by AAP leader Ashutosh.
"The man who is at the receiving end of governance would decide whose governance is better. During the elections, people had two models of governance. One was the Kejriwal model of governance of 49 days and the other Modi model of governance of eight months. By giving us 67 seats (in Delhi assembly poll), people have proven that Kejriwal model of governance is better," he said.
Asked to weigh his model of governance against PM Modi's, Mr Kejriwal emphasised that "in our model a common man is at the centre whereas in his (Modi) model a handful of the country's rich people is at the centre."
"Policies are made for them. But we make policies for common men," he said.
Mr Kejriwal said that people of Delhi were happy over his decisions to cut electricity tariff and "falling" rate of corruption adding there was a need to reform the bureaucracy.
"Common man is interested in delivery. There is a need to reform the bureaucracy and governance. We will bring in major structural changes.
"For example, we are putting out circulars asking bureaucrats to prepare blueprints on how they intend to collect a certain amount of tax. There would be quarterly milestones and we will provide them governmental resources and better performers would be rewarded," he said.
He underlined that his real fight was tackling the bureaucracy which "I have realised is not an easy thing. They are more keen on saying how things are not done."
The Delhi Chief Minister, who had unsuccessfully contested against Narendra Modi in Varanasi Lok Sabha constituency, said that the coming five years were "very important" and if "we manage to change Delhi, then the country has reasons to hope."
"Many things need to be changed. Delhi is a special state. It doesn't have all the powers. But common men don't understand that. They are not interested in technicalities on what we have and what the Centre has," he said.