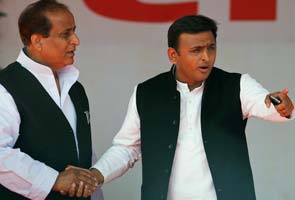 Lucknow:
Azam Khan, known as the Muslim face of the ruling Samjawadi Party in Uttar Pradesh, today appeared to defend the government that he is a part of but had chafed against after communal violence in Muzaffarnagar killed nearly 50 people and placed 40,000 in refugee camps.
"Fascists in the country were bothered by the fact that the Samajwadi Party is peacefully in power in UP," said Mr Khan, who is a senior minister. Seconding the theory that the riots were engineered by the BJP, an allegation leveled first by Chief Minister Akhilesh Yadav, Mr Khan said, "We have followed the law so far and will continue doing so. It is the law that has stopped violence in Muzaffarnagar."
Mr Khan skipped an important meeting of top Samajwadi Party leaders in Agra last week in alleged protest against Mr Yadav's failure to check the riots that erupted earlier this month. Some of his colleagues demanded that he resign for his revolt, but party chief Mulayam Singh Yadav, who is also the chief minister's father, propitiated Mr Khan by emphasizing their bond.
The chief minister then met Mr Khan over on Friday; the detente appears to have yielded returns.
Mr Khan's strong comments today come after the Prime Minister and Congress leaders Sonia and Rahul Gandhi visited Muzaffarnagar and commiserated with Muslims in refugee camps.
The Muslims of Uttar Pradesh are loyal supporters of the Samajwadi Party; last week, the chief minister commented on the communal violence wearing a skull cap, a gesture criticized by some for signaling that he was taking sides.