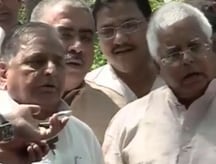 New Delhi:
After a sustained campaign fronted by Lalu and Mulayam Yadav, the government has decided to give Members of Parliament another raise.
Last week, the government increased MPs' salaries from Rs. 16,000 to Rs. 50,000 a month. Their constituency and office allowances were doubled from Rs. 10,000 to Rs. 20,000. Now both those tax-free allowances have been raised to Rs. 25,000 a month.
(Read: 300% salary hike, but some MPs want more)
The new terms will cost an additional 150 crores. (
Forum:Will higher salaries for MPs help reduce corruption?)
Most Opposition MPs had earlier united in the demand that their salaries go upto Rs. 80,001 a month - a rupee higher than what the Cabinet Secretary makes. On Saturday, Finance Minister Pranab Mukherjee met MPs from parties including the BJP, JD-U, Lalu's RJD and Mulayam's Samajwadi Party at Parliament.
The Left has said repeatedly that MPs should not be entitled to decide their own salaries, and that an independent review panel should have that right.
The Cabinet has discussed raises for MPs three times in the last week. The urgency is related, sources say, to the support the government needs from allies like Mulayam and Lalu on the controversial nuclear liability bill.