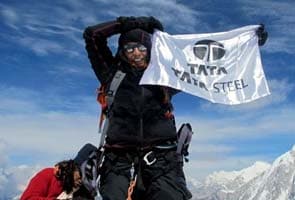 Mumbai:
Premlata Agarwal became the oldest Indian woman to conquer Mount Everest on Friday, an official said here. Mother of two daughters, one of whom is married, Premlata ascended the world's highest peak at 9.35 am, said a spokesperson for her sponsors.
Fort five-year-old Premlata began her preparations to scale the world's tallest peak on May 6 when she went from the base camp at 18,000 feet to Camp 2 at 22,000 feet.
Then, with the help of artificial oxygen, she reached Camp 3 at 23,000 feet and Camp 4 at 26,000 feet.
She caught some rest on Thursday before embarking on her arduous climb to the summit at 11 pm, and finally reaching there after nearly 11 hours.
Before conquering world's highest peak, Premlata went on a climbing exercise at 20,300-feet-high Island Peak in the Himalayas, besides going up and down the Everest base camps for over a month to acclimatise herself with the tough conditions and regime.
Premlata has now become the first woman from the Marwari community to scale Everest. She has participated in several adventure events like the Karakoram Pass expedition, an ascent on Stok Kangri, and the first Indian women's Thar Desert expedition which involved a 40-day camel safari from Bhuj in Gujarat to Attari in Punjab.
Get Breaking news, live coverage, and Latest News from India and around the world on NDTV.com. Catch all the Live TV action on NDTV 24x7 and NDTV India. Like us on Facebook or follow us on Twitter and Instagram for latest news and live news updates.