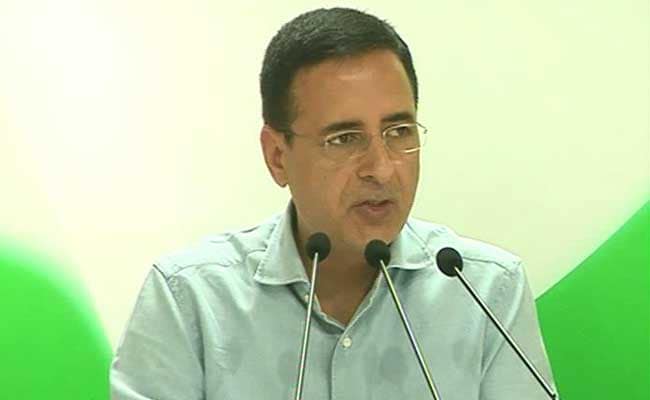 New Delhi:
The Congress today accused the Modi government of treating the issue of instant triple talaq or instant divorce "more as a political football than a matter of justice to Muslim women".
Congress chief spokesperson Randeep Surjewala said the government has not acceded to the Congress request for making a provision of attaching the property of those not providing compensation to the affected women and children after giving them divorce.
He said instant triple talaq was "an illegal, unconstitutional and inhuman practice" that was quashed by the Supreme Court. After the Supreme Court quashed the practice, it has become a law.
"For us, triple talaq has always been a human issue related to women rights and extending justice to them," he said, adding that this is the reason why Congress leaders and lawyers such as Salman Khurshid and Manish Tiwari represented the affected women before the Supreme Court in the case.
"However, the Modi government is treating the issue more as a political football than a matter of justice to Muslim women," he alleged.
"When triple talaq has been quashed, the next issue now is of providing justice to Muslim women. They should have the right to allowance from the property of their husband to look after themselves and their children. The property of those men who are unable to provide this compensation, should be attached. But the Modi government is avoiding this."
"They do not want justice be given to Muslim women, Modiji does not want that Muslim women get allowance and our amendment that property should be attached was not accepted by the government," he told reporters.
Mr Surjewala said the Congress had objected that if a man is jailed, how will women get allowance and how can care be ensured to their children.
The Union Cabinet today approved an ordinance to ban the practice of instant triple talaq, with Law Minister Ravi Shankar Prasad saying there was a "compelling necessity" to bring the measure as instances of 'talaq-e-biddat' continued unabated despite the Supreme Court striking it down.
Addressing a press conference, he accused the Congress party of not cooperating in the passage of the Muslim Women Protection of Rights on Marriage Bill, pending in Rajya Sabha, because of vote bank politics.
Describing the practice as "barbaric and inhuman", he said nearly 22 countries have regulated triple talaq. However, gender justice was given a complete go-by in a secular country like India because of blatant vote bank politics.