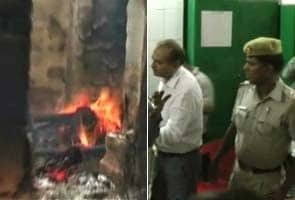 New Delhi:
Three persons were sentenced to life imprisonment by a Delhi court today for their involvement in the April 2010 killings of a 70-year-old Dalit and his physically-challenged daughter at Haryana's Mirchpur village.
While sentencing Kulwinder, Ramphal and Rajender to life term, Additional Sessions Judge (ASJ) Kamini Lau sentenced five others to varying jail terms of up to five years while letting off seven others on probation for one year.
A total of 15 people were convicted in the case on September 24.
The five, who were sentenced to lesser jail terms up to five years, are Baljeet, Karamveer, Karampal, Dharambir and Bobal.
ASJ Lau also imposed a fine of Rs 20,000 each on the eight convicts who were sentenced to varying jail terms, while a fine of Rs 10,000 each was imposed on probationer convicts.
The court had earlier acquitted 82 out of 97 accused in the case saying the allegations levelled against them were not proved beyond reasonable doubt.
The 15 convicts, belonging to the Jat community, were held guilty for setting ablaze victim Tara Chand's house, which caused the deaths on April 21 last year in Mirchpur village in Hisar district. The incident took place after a dispute between the Jat and Dalit communities of the village.