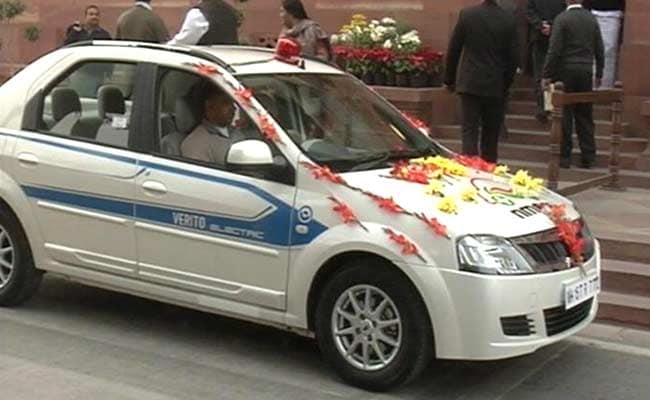 New Delhi:
Union Minister Anant Geete came to Parliament today in an electric car, highlighting a push by the government to adopt non-polluting transport.
Amid sharp focus on the national capital's air pollution, Mr Geete, who heads the Heavy Industries ministry, brought a battery-powered Mahindra Verito to Parliament.
"By using such cars, air and noise pollution can be curbed. It is expensive at around Rs 13.5 lakh as the battery is imported but (Transport Minister) Nitin Gadkari is trying to encourage local manufacturing to cut cost," he said.
Emblazoned with the logo of the National Electric Mobility Mission that aims to have 6-7 million electric vehicles on the road by 2020, decked up with flowers and a red beacon on its roof, the car drew many admirers at the Parliament complex.
Yesterday Prime Minister Narendra Modi gifted Lok Sabha Speaker Sumitra Mahajan a pollution-free electric bus.
The bus - a collaborative effort between the Union Transport Ministry and Pune-based technology company KPIT - has been converted from diesel to electric and will be used to ferry Parliamentarians.
Found to be the world's most polluted major city earlier this year, air quality in Delhi has been the subject of a growing debate with city's high court commenting that living in the city was like "living in a gas chamber".
The remark accompanying a sharp rebuke has forced the government to introduce urgent measures to curb air pollution in the city.
Among a slew of measures announced by the Delhu government is a plan to allow cars with odd and even registration numbers on alternate days as try-out measure for the first 15 days next year.